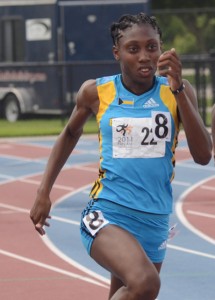 Breaking NEWS >>>
Anthonique Strachan has just won GOLD in the 200m in Barcelona. It is another GOLD Medal performance by the rising star for the Bahamas at the Junior World Championships. Her time was 22:54 a world Junior leading time. Anthonique is the one to watch in the future.
AAF World Junior Championships – Update 2
By Alpheus Finlayson /BAAA and Bahamas Athletics
SPAIN – On the third day of the IAAF World Junior Track and Field Championships in Barcelona four Bahamians advanced to another round.
Both Rashan Brown and Shaunae Miller advanced in the 400m. Broan was first in heat two in 54.02sec while Miller finished on top of the pile in the fourth heat in 52.71sec.
Miller is the defending champion in this event.
High Jumper Ryan Ingraham, who has the best performance of a junior in the world this year at 2.28m(7'6″) jumped 2.17m to advance to the final.
Anthonique Strachan won her heat of the 100m in 11.68sec to advance to the final. Tyler Carter finished fourth in her heat, failing to advance.
Teray Smith finished fourth in te semi-final of the 100m in 10.44sec.
Quarter miler O'Jay Ferguson finished sixth in heat two in 47.02sec.
Strachan won the 100m in 11.20sec, the best time in the world this year for a junior woman.
This is the third gold medal by a Bahamian in the history of the World Junior Championships.
Sheniqua Ferguson won the 200m in 2008. Shaunae Miller captured the 400m in 2010.
Strachan should be on track to win the 200m. Miller has the second best time in the 400m this season.
Strachan's victory today should be the first of the Independence gifts to The Bahamian people from Trtack and Field.