Assistance - Mr. Michael Jones of Inline Project Co. Ltd. is pictured talking to members of the media Thursday after his company came to the rescue to ensure that a new home will be built on the same spot. The company has projected that the reconstruction will take place at a cost of about $25,000 much of which it will incur.
If you can breakdown the Bahamian homes you must could breakdown the illegal ones! Guns and illegals weapons are in those villages too!

NASSAU, The Bahamas –  After 30 years on the Royal Bahamas Police Force – many of them in frontline policing – Inspector Ricardo "Alacup" Richardson thought he had witnessed it all.
That was until he walked into a "home" on Thompson Lane, off East Street, close to the area he "grew up in."
"When the neighbours first brought this house to our attention during a walk-a-bout in the area following our return to the Urban Renewal Centres in June, I thought it was just a dilapidated, abandoned building," Inspector Richardson said. "But after walking through, I realised that this was indeed where someone – a human being – lived and that no human being should ever have to live under these conditions.
"When you walk in and see things like that, it sends something through the whole body; it makes you upset because it's hard to believe that there are persons living under these types of conditions in this day and time in The Bahamas," Inspector Richardson added.
The conditions Inspector Richardson spoke about were old clothes strewn all over the place, electrical wires and dirt and debris everywhere, no running water, no electricity, and no sanitation. A bucket for bathing, one for bathroom duty and another for collecting rain water through what is left of what was at one time a roof. A picture of squalor.
Add to that an old refrigerator used as a dining table, clothesline made out of electrical wire that was used to hang clothes while simultaneously serve as a partition, no windows or doors because they have been allowed to rot and fall off hinges, and the wooden walls, those that were left standing, with gaping holes that allowed you to see the inside of the structure from the road.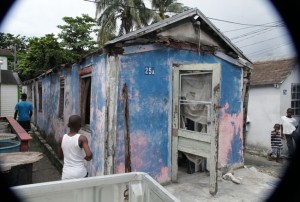 The back of the building, said to be the "best part" and where the 53-year-old "lived", consisted of a rotten, mildewed mattress that was used for a bed, a toilet that apparently hasn't worked in years, if ever, and an old bath tub that just existed – rusty, dirty, not fit for human use. Health hazards all over the place.
"This place is terrible and poses an environmental threat not only to the gentleman living here, but the community at-large," Richardson, the Officer-in-Charge of the Centreville Urban Renewal Project Office, said, prior to having a tractor knock the building down.
"These houses are in close proximity to each other, and so whatever health hazards were contained within, could have impacted the neighbours. Additionally, there are quite a number of young children who have to pass this house every day. The instability of the building could have posed a serious threat to them," Inspector Richardson added.
The Police Inspector, who was one of the first Officers assigned to the Urban Renewal Programme upon its inception in 2002, figured he had to do something quickly to not only help the gentleman living under those conditions, but also to protect the neighbourhood.
In stepped Inline Project Co. Ltd., a General Contracting/Quantity Surveying company headquartered in the Centreville area.
The company has agreed to rebuild the wooden structure, turning it into a "real home" using a budget of $25,000 – of which most will be absorbed by the company. Michael Jones is a Director of Inline Project Co. Ltd.
"We just decided to partner with Urban Renewal just to help out the best we can to try and rectify this problem," Mr. Jones said. "When you walk through the house and see someone living like that, how can you not help?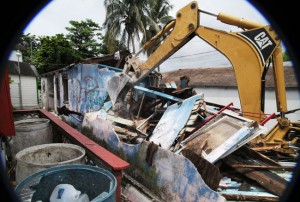 "I was surprised that someone actually lived there. I thought it was an abandoned building. When the Officers first brought me here I said 'no way anyone could be living here.' He is inside this house and if it is raining outside, it's just like it's raining inside. You can't have people living like that. No way."
Mr. Jones said the house was in such bad condition, that it had to be demolished. He said it will take 4-6 weeks for his company to rebuild the house, turning it into a home.
"This house was pretty shot," he said. "What we are going to have to do is to just simply start all over. We should be able to complete it in about four-to-six weeks. It will be a wooden structure, but we will try to modernise it as best we can and make it hurricane proof. It should be fairly decent when we are finished with it," Mr. Jones added.
The gentleman living in the building got some additional good news, and that is he  will be housed by Grerat Commission Ministries for the time it will take to rebuild the house.
"I just want to thank Mr. Michael Jones and Inline Project Co. Ltd., and indeed this community, for partnering with us in this particular project. We truly want to make a difference in helping to restore these neighbourhoods to safe havens," Inspector Richardson added.