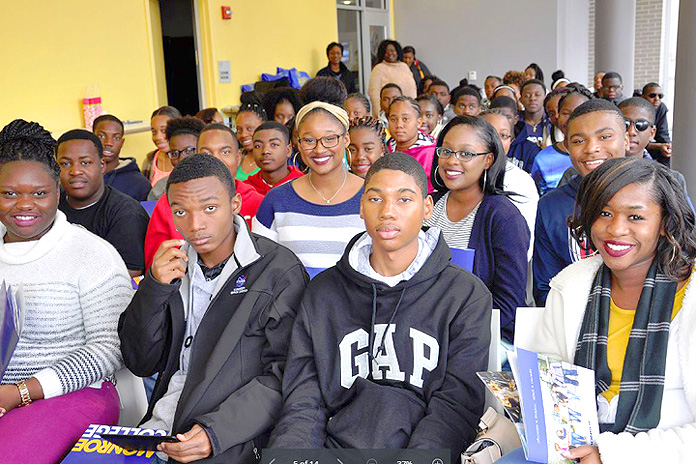 By Jacqueline Ruegger
for Bahamas Press
In late March, approximately 50 students from Aquinas College on Gladstone Road in Nassau, Bahamas traveled to New York for a tour of Monroe College.
While the official business of the day was to visit the campus and speak with college faculty and staff about the robust educational opportunities, academic resources, and personal support available to them at Monroe, it quickly turned into a family reunion for one member of the visiting group.
Among the first faces that Daniel Rolle of Nassau saw upon arriving on campus was his sister Philippa, who is working toward her bachelor's degree in the Hospitality Management program. It was a very happy, tearful moment for everyone, including Monroe staff, as the two overjoyed siblings embraced and caught up.
Escorted by Guidance Counselor Mrs. June Hutcheson, International Educational Consultant Ms. Erica Hepburn, and Grades 7 & 8 Coordinator Ms. Shannals Johnson, the 50 students learned about Monroe's many undergraduate and graduate degree programs, its strong support services for international students, and even toured one of Monroe's dormitories to get a glimpse of residential life on campus. After a lunch at the college's new student café, the students experienced some of the sights and sounds of New York City's Times Square.
More than 400 students from the Caribbean currently study at Monroe's campus in New Rochelle, including 25 from the Bahamas.
Monroe College partnered with the Bahamian Ministry of Education last year to develop a $1.1 million scholarship program to expand college access to local public high school graduates. The first 13 deserving scholarship recipients from the island nation began their studies at Monroe last September. The Monroe College merit scholarship program is a four-year commitment providing for each of the recipients to pursue their undergraduate studies at the college's campus in New Rochelle, NY.