It was R Kelly night at the Pavilion – The STORM IS OVER!!!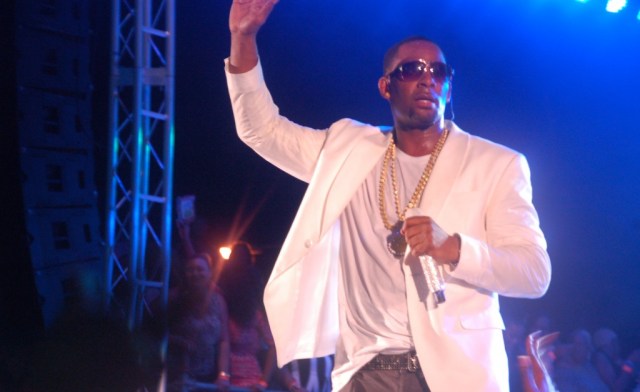 By Arthia Nixon
Nassau, Bahamas –  Bahamians took to social media within minutes of R Kelly hitting the stage of his first Bahamas concert to declare him the best live performance to hit the country in years. The Grammy award-winning crooner delivered above and beyond what fans expected in his Celebration of Love Concert in Nassau, Bahamas and proved that he is still the undisputed King of R&B.
Due to an overwhelming demand, Fresh Entertainment, organizers of the event had to relocate some activities and parties to larger venues in order to accommodate the crowd. Still when fans heard that the All-White preconcert party was going to be at a new venue, they showed up ensuring they got a moment to take part in the highly anticipated event.
Beauty stores, salons, hotels, restaurants and even the local telephone company advertised "R Kelly specials" for those who planned to go to the concert.
Those not attending the event knew when he took the stage on February 23, 2013 due to a plethora of hashtags #RKelly, #freshRK, #BahamasConcert and #242 popping up (242 being the telephone area code for The Bahamas, used by young citizens as a way to identify where they come from).
I Believe I Can Fly sent chills down my spine!" posted one fan to Facebook within seconds of another fan tweeting "#RKelly #legendary". Another fan posted "Alert PMH because all kind of baby getting make tonight to this live music" referencing the nation's main health care facility, Princess Margaret Hospital. Overall, the general consensus was that R Kelly proved himself to be a formidable vocal talent and reminded everyone why his 20 year solo career is far from fading.
R Kelly's fans were not limited to The Bahamas as several lucky Americans won tickets to fly into the tropical destination, which permitted attendees to bask on the beach during the day, and bare their skin in revealing club wears at the outdoor event. Additionally, there were an estimated 400 fans who cruised to the island along with R Kelly.
Attendees also boasted that Kelz dished out a few pointers to the men and managed to stir up the heat in his female fans during his nearly two hour long performance. No doubt about it, R Kelly showed the Bahamas that he is The World's Greatest. VISIT FRESH ENTERTAINMENT BAHAMAS FOR MORE PHOTOS!