FNM Party descends into a nasty bloodbath attack against democratically elected team
in Party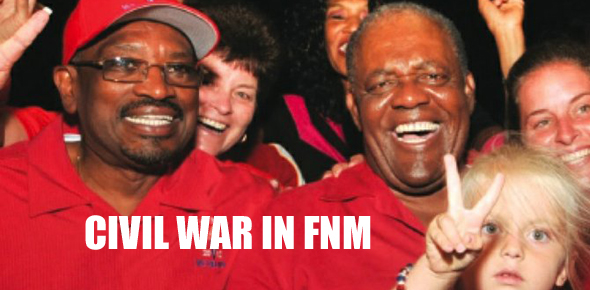 "Cry havoc and let slip the dogs of war"
Meaning: The military order Havoc! was a signal given to the English military forces in the Middle Ages to direct the soldiery (in Shakespeare's parlance 'the dogs of war') to pillage and chaos.
"It's Unthinkable…Unbelievable!"
Nassau, Bahamas – Breaking news coming into Bahamas Press confirms Hubert Ingraham has initiated a civil war in the FNM. The "Chief" as he is bowingly referred to, recently called together his "war cabinet" to put out a hit on Party Leader Dr. Hubert Minnis.
The Chief ranted for at least one hour, uninterrupted, about how Minnis has disrespected him as "Leader Emeritus" of the FNM by publicly scolding him about speaking for the party and declaring "the Ingraham years over" and boldly refusing to follow his directives since the last election.
Looking at Tommy Turnquest, the Chief who is known, for ignoring people's feelings laughingly boasted, "Well I returned once before, you know!" "Ha!  Ha! Ha! Ha" One by one, the goons started to chime in "That's right Chief…Doc has got to go!"
The Ingrahamites determined that they must take down the Doctor within one year and re-install the Chief as Party Leader by the end of 2014 with the dream that Ingraham can defeat the PLP more time.
The defeated Ingrahamites are afraid of the growing popularity by Minnis, who when FNMs were all being defeated and lost during the May 7th elections, he was safely increasing the margin of wins last year. Additionally the group is afraid of the fact that the growing trend around the region proves that Doctors are being elected as Prime Minister – the most recent came this week during Grenada's general election.
Ingraham and Foulkes organized a phantom Coopers Town Branch of the FNM, who have already begun their attacks on Minnis in the press and in a whisper campaign calling him inept without the slightest possibility of beating the PLP in 2017.  This week they began e-mailing this picture of Minnis to their various council members and  Party supporters attempting to undermine any Minnis Support in the party.
One member of the council concerned with the move has shared the circular with members of the media.

Desperate move of the Ingraham Faction revealing all of the players….
WE WILL REPORT…YINNA WILL DECIDE!