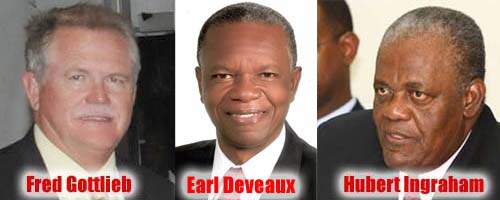 We've learned tonight that the BEC is in turmoil as heads roll to the unemployment line. Brian Albury, assisting general manager and Everette Sweeting, CFO, both were dismissed by BEC's board chairman Fred Gottlieb today. Both men became the latest victim of the FNM's Trust Agenda.
Bahamas Press 'deep throat' at the corporation said both men were told to relinquish all keys and corporation assets in their possession just seconds after knowing their fate.
BEC now joins a line of mass firing by the Ingraham government. Ingraham's heartless government has now fired workers from the RBPF, Customs, Immigration and has retired hundreds more in departments across the service.
Readers would remember Ingraham telling members of the WUTLESS MEDIA how he has completed his firing exercise, following the dismissals in the customs department.
During his national address to the nation on January 29th Ingraham said, "We fully intend to work towards a new culture of excellence in the service of the Bahamian people, a culture of ethical conduct on the part of those who serve, a culture that is hostile to slackness and corrupt practices."
What did supporters in Ingraham's party at BEC could have done to deserve this harsh punishment? Mass firings continues by the Ingraham government, at a time when the world is facing its toughest economic crisis since the days of GREAT DEPRESSION!