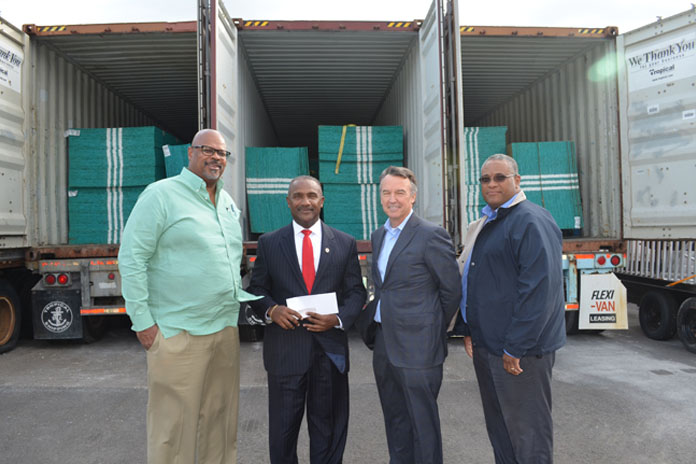 Atlantis, Paradise Island prides itself on not just being able to provide quality customer service, attractions and amenities to the guests that come to stay each year, but also on its commitment to the local community. In an effort to support the Family Islands in the southern Bahamas that were devastated by Hurricane Joaquin, the mega-resort property donated in excess of $50,000 to The Bahamas Red Cross along with three 40ft containers of lumber to assist with the rebuilding and restoration of homes damaged during the storm.
Atlantis President & Managing Director Paul Burke, accompanied by Senior Vice President of Public Affairs and Retail at the resort Ed Fields, presented the cheque totaling $52,343 to Bahamas Red Cross President Craig Tony Gomez. In making the presentation, both Burke and Fields said answering the call to help was a no-brainer for a company that has always been in tune with the Bahamian community.
"In response to the devastation that recent Hurricane Joaquin left in its wake in the southern islands of The Bahamas, Atlantis – with Brookfield Hospitality at the helm – initiated several relief efforts including a challenge to our employees and guests to generously donate to the cause and we as a company would match the amount raised. Through that effort, $23,583.51 was raised.