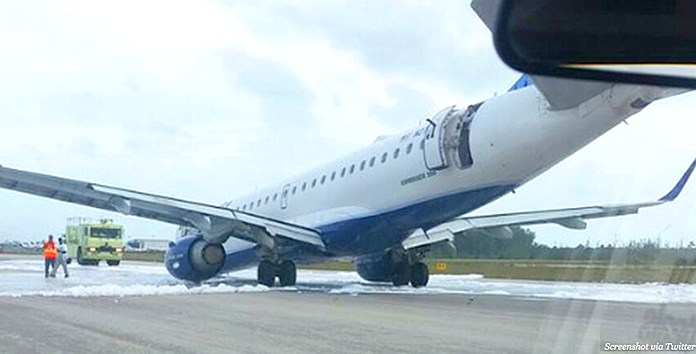 By Bahamas Department of Civil Aviation
The Civil Aviation Department (CAD) advises that at 3:25 pm today, a Jet Blue 29 Embraer 190, inbound to LPIA from Washington Dulles Airport (KIAD), with 97 souls on board, declared an emergency to Nassau Approach control, due to a landing gear problem.
It was initially determined by CAD and LPIA officials that only the right main gear was extended, and that both the left main gear and the nose gear were not. The pilot in command made a decision to attempt a landing at LPIA, and after burning some fuel, executed a safe landing at 4:36pm, with the use of both the left and right main gear only. The nose gear was not extended. All passengers and crew were determined to be uninjured.
As a result of the incident, the main runway at LPIA, 14 / 32 is temporarily closed, until the aircraft can be removed. Aircraft operations continue on runway 09 / 27 with minimal delays
The Department of Civil Aviation commends the pilot, the Air Traffic Control staff, the Airport Authority, the Nassau Airport Development Company, the Airport Crash, Fire and Rescue officers at LPIA, and the Royal Bahamas Police Force firefighters, for a job well done.
The public is informed that the Accident and Investigations Unit of the Flight Standards Inspectorate will immediately conduct an investigation into this incident, with a view to determining the circumstances which led to its occurrence.