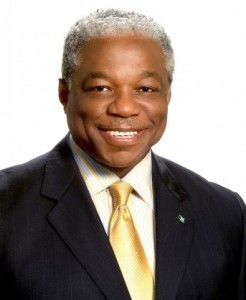 PRESS RELEASE
PASTORS OF THE BAIN AND GRANTS TOWN CONSTITUENCY
TO STAGE A WALK-A-BOUT  ON SATURDAY 15TH JANUARY
IN CONJUNCTION WITH THE MEMBER OF PARLIAMENT AS PART OF A NEW BAIN AND GRANTS TOWN ANTI-CRIME INITIATIVE
14th January, 2011
As a result of the escalating incidence of violent crimes within the Bain and Grants Town constituency in recent years and particularly over recent months, and after the number of deaths which have resulted therefrom, the Member of Parliament for the constituency, Dr. Bernard J. Nottage, has begun a series of consultations with the leaders within the community, the intent of which is to enlist their assistance, participation in and support for a series of initiatives to address the myriad of social problems, which confront area residents and which contribute  to the problem.
These many social ills include the following:
•    Low educational performance
•    High teen pregnancy rates
•    Alcohol and drug abuse
•    Drug arrests among youth
•    Gang membership
Other key factors identified included:
•    Unstable family life
•    Low self esteem
•    High unemployment
•    Adult double standards
•    Lack of respect for law and order
•    Culture of indiscipline
•    Lack of appreciation for the rich heritage and culture of the Bain and Grants Town Constituency communities of Big Pond and Black Village, as well as Bain Town, Grants Town and historic Downtown Nassau
The first group, which has been consulted, is pastors of churches in the constituency. With approximately 40 churches within the constituency boundaries, pastors have an intimate familiarity with the struggles of residents, many of whom attend their churches and are strategically placed to address the many issues. After a series of very frank and fruitful discussions, pastors have made a number of recommendations, which are being organized into an Action Plan. This plan will form the basis for a sustained intervention by pastors, in conjunction with the M.P., to create solutions aimed at reducing to a minimum, the incidence of crime, violence, injury and murders within the constituency.
On Saturday afternoon, 15th January, Dr. Nottage and the pastors will assemble at the grounds of the New Victory Church of God on Hospital Lane and will hold a short prayer meeting, before conducting a Walk-A-Bout through some of the streets of the constituency. It is hoped to talk with residents on the streets, in their homes and places of business in order to familiarize themselves with the residents' concerns and to better equip them to find solutions.
Dr. Nottage has indicated that in the coming weeks, consultations will be held with other community leaders, including the leadership of schools, youth groups, fraternal organizations, sports organizations and other social groups, to tap into their ideas as well and to solicit their support for this initiative.