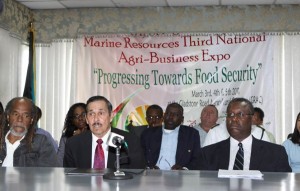 Nassau, Bahamas – An array of Bahamian food products is in store for patrons attending the Ministry of Agriculture and Marine Resources' third National Agribusiness Expo scheduled for March 3rd through 5th at the Gladstone Road Agriculture Centre.
Prime Minister Hubert A Ingraham will deliver the keynote address and Governor General Sir Arthur Foulkes will present the awards.
Large contingents of food producers from nearly all the islands are expected to participate, said Agriculture an Marine Resources Minister Lawrence S 'Larry' Cartwright on Thursday. Provisions are being made for at least 150 vendors.
A wide variety of fruits, vegetables, meats, marine products, pastries, preserves, ornamentals, and handicrafts will be featured and offered for sale. Fifty-one agricultural science students will compete in root crop, fruits and vegetables categories.
There will be cooking demonstrations and culinary competitions utilising native ingredients, he said.
The linkages between agriculture and marine resources, and education, tourism, health and the manufacturing sectors will be explored.
"The Ministry of Agriculture and Marine resources continues to make great strides in meeting its mandate to enhance the ability of the farming and fishing industries to fuel economic development and improve the quality of life of Bahamians," said Mr Cartwright.
"The sustainability, growth and development of the agribusiness sector are pivotal in our quest for achieving food security and making agriculture a strong pillar of our economy. These expos underscore our commitment to this mandate.
"For persons with interests in any aspect of agribusiness, the Expo will be the place to forge networks," he added.