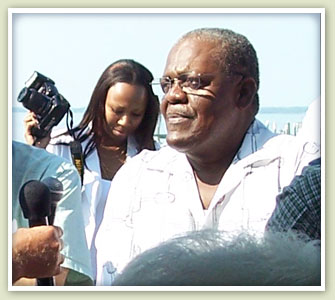 <<< Sharon Turner holding her camera whilst Hubert talks to the press. MY MY SOME PEOPLE HAVE NO SHAME!
So now Bahamas Press has made a new observation. In order to confuse and trick the Bahamian people, Bahamas Information Services is letting Peter Ramsay shoot pictures of Prime Minister, Hubert Ingraham, at the airport upon his departure to various destinations. Everyone then assumes Peter Ramsay is taking the trip like what he is suppose to do, but instead Ramsay jumps in his little jeep and heads to Adelaide where he lives. The PM then boards the flight to go to his destination with his entourage INCLUSIVE OF SHARON WILLIAMS-TURNER, the deputy director of Bahamas Information Services.
Curiously and cleverly, Sharon Turner is never in any of Peter Ramsay's airport pictures. But then BANG, just when the Bahamian people thinks she is behaving herself and doing what she is paid to do at BIS, her byline appears on photos taken abroad. Bahamas Press has to stop hinting around and get straight to the point and ask, "MR TURNER!!!! Are you asleep!!!! Don't you find your wife's behaviour suspicious???!!! Are you that sprung that you cant see what's going on??!!" And as far as Delores Ingraham is concerned, we don't think this good, decent woman really cares. Despite the suspicions of Bahamas Press and the Bahamian public, this nonsense with these two people continues. The boldness of these two!!!
AGAIN BP asks the question, "Why in the heck does the deputy director of Bahamas Information Services have to follow the Prime Minister around the world taking pictures, which is a job assigned to someone else?????" We will stop running these articles when someone writes in a SENSIBLE and ACCEPTABLE explanation for this.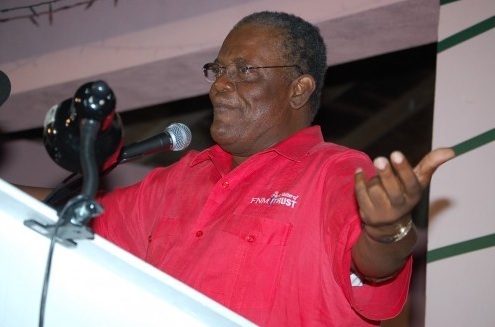 To note that something is not right with them, Ingraham tried to pass Turner off as his wife's niece at the onset of things. No one bought this, especially when people observed her being chauffeur driven around town by his Security and Intelligence Branch (SIB) bodyguards who are paid by this country to guard HIM. Also when she was the press officer for the FNM prior to the party winning the election in 2007, why didn't she stay at his house since she is wife's niece? Whenever she came in town she stayed at hotels booked by INGRAHAM. Who do these people think they are fooling?? Certainly not the people of this country!! We have long passed the days when we can be tricked and fooled by politicians or cunning little johnny-come-lately girls who are here on a mission to TAKE ALL THEY CAN GET AT THE EXPENSE OF EVERYONE WHO COMES IN THEIR WAY!!!
We are paying this lil gal's salary and the most she can do is stay in office and DO WHAT SHE IS PAID FOR and let Ramsay do what he is being paid for. Instead she is at BIS oppressing those who she feels are non-Ingraham supporters and trekking the globe behind him. And, the FNM has the nerve to talk about the PLP blowing money?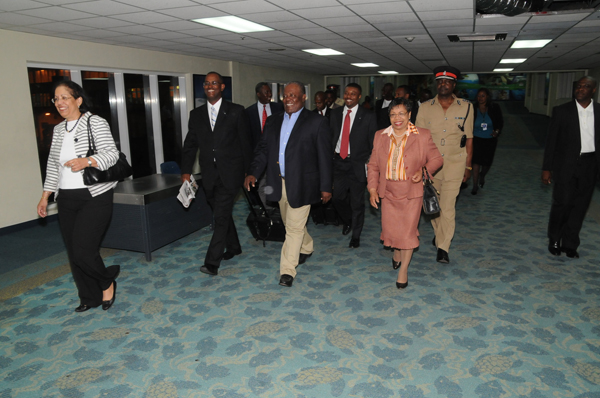 Prime Minister the Rt. Hon. Hubert Ingraham and a delegation left Nassau on Thursday for the 5th Summit of the Americas to be held in Port-of-Spain, Trinidad and Tobago from April 17-19.   Pictured from left is Senior Policy Advisor, Office of The Prime Minister, M. Teresa Butler; Minister of National Security, the Hon. Tommy Turnquest; Prime Minister Hubert Ingraham; Minister of State for Finance, the Hon. Zhivargo Laing; Cabinet Secretary, Anita Bernard and Commissioner of Police, Reginald Ferguson.  (BIS photo/Peter Ramsay).