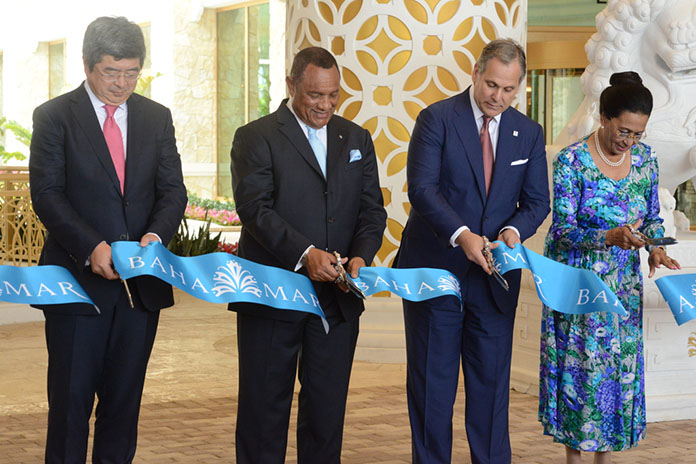 NASSAU, The Bahamas — Prime Minister and Minister of Finance the Rt. Hon. Perry Christie said, on April 21, 2017, that, to put it mildly, he was "very pleased" to take part in the long-awaited First Phase Opening of the 1800-room hotel and the 200,000-square foot Convention Centre at Baha Mar, operated by the Grand Hyatt, as well as the 95,000-square foot world class casino, the largest in the region, operated by Sky Warrior, and the 18-hole Jack Nicklaus Golf Course, together with other "magnificent" amenities.
"The Hyatt Group is an entrenched global hospitality brand," Prime Minister Christie said during the official ceremony for the Phase One opening. "It has achieved a level of recognition and distinction in the marketplace that few can match.
"As this will be the first Grand Hyatt brand to open in The Bahamas I want to take this moment to thank the owners of Hyatt for their strategic partnership in this project and for the undoubted confidence that they have expressed in The Commonwealth of The Bahamas," he added.
Prime Minister Christie said that Baha Mar is designed to appeal to a broader demographic than existing Bahamian resorts, with a mix product that could equally attract Baby Boomers, GenXer's and Millennials.
He added that all of the brands that will be operating at Baha Mar have the networks and distribution channels to deliver the business; and so he had no doubt that the future of The Bahamas' tourism industry was bolstered that day by that pivotal event and that the industry would continue to gain enduring strength and stability.
"The Grand Hyatt, the new world class Sky Warrior casino, the spacious and elegant convention centre and the new Jack Nicklaus PGA-rated golf course being opened today are to be joined over the ensuing months by the completion and opening of other elegant brands and facilities, including the renowned brands of Rosewood and SLS, a luxurious spa, racquet club, restaurants, entertainment and attractive shops set in 60,000 square feet of retail space," Prime Minister Christie noted.
Prime Minister Christie stated that Baha Mar's opening is not a mirage; it is real and it is the most significant economic development event ever to occur in a single phase within The Bahamas and the Caribbean region.
"For many, many, many Bahamians, it is more than a dream come true," he said. "It is the unfolding of a bold vision which I led my Government in undertaking with private sector partners a decade ago."
Prime Minister Christie said that it began with the acquisition of Government-owned and privately-held properties; the creation of a master development plan to transform the Cable Beach area into a world class tourism destination; large scale private sector investment supported by Government concessions; overcoming a major recession, provisional liquidation and receivership; securing new investors and operators, and additional financing; all secured by endless and tedious negotiations to achieve the notable outcome and milestone in Bahamian tourism, which was being celebrated that day.
He noted: "Amidst the complex and arduous negotiations, my Government and I remained focused on achieving three main objectives: Firstly, ensuring immediate remobilization and resumption of construction, based on committed funding sufficient to complete construction and to open all parts of the Project; secondly, the opening of the Casino, Casino Hotel, Convention Centre, Convention Hotel and Golf Course prior to the end of the 2016-2017 winter season; and thirdly, settlement and/or payment of all valid claims of contractors and subcontractors, suppliers and employees and other Baha Mar and CCA creditors."
Prime Minister Christie said that he was pleased that his Government had, with the co-operation of the stakeholders, achieved those lofty objectives.
"Not only has funding been provided to fund all remaining construction costs to complete the project, but some $101.5 million has been injected into the Bahamian economy towards payment of employees and unsecured creditors," he said. "This sum represents an unprecedented ex-gratia payment made by China Export Import Bank to unsecured creditors to accommodate the request of my Government."
Hundreds of former Bahamian employees of Baha Mar have received the outstanding amounts due to them: unpaid salaries, severance pay, accrued vacation pay, and notice payments due by termination, Prime Minister Christie said.
"Sums deducted from employees and former employees' salaries and pension contributions have also been paid," he noted. "Other Bahamian creditors and contractors have received a significant part, and in many cases, all of the value of their claims."
During the period of construction, Prime Minister Christie stated, several thousand construction jobs and entrepreneurial opportunities had been created.
"Today, not including the operating Melia Hotel, more than 1500 Bahamians and 100 expatriate staff are employed at Baha Mar," he said.
In the case of the Bahamians, he went further, many had been trained specifically for jobs at Baha Mar, while increasing numbers have come through the National Training Agency.
These employment numbers will increase incrementally from over 1500, at that present time, to 5000 direct jobs when all the hotels are open in the coming months, he added.
"The multiplier effect will see the creation of an even greater number of indirect jobs within the Bahamian economy in the provision of goods and services to the resort and its guests," Prime Minister Christie said.
He pointed out that Baha Mar's first phase opening also ushers in a new era in our tourism industry as it will consolidate over 40 per cent of Nassau and Paradise Island's total room inventory in the upscale and luxury product category, shifting this destination's international lodging profile toward a more high-end, upscale market with added international brands which is critical, not only to improving brand recognition and experience, but increasing airlift capacity and delivery of sustainable, upmarket ADR's for the destination.
"At full opening, Baha Mar is projected to generate an additional 315,000 air passenger seats annually, an increase of 19 per cent over our 2015 record of arrivals and signaling in the marketplace the revitalization of the Bahamas tourism brand," Prime Minister Christie said.
"Baha Mar's full opening, therefore, is critical to the economic viability of our national economy," he added. "It is expected to generate over $700 million in direct annual economic output and $1.1 billion in indirect and induced output and to contribute over $45 million in taxes annually, just from resort operations and national insurance contributions."
He continued: "That is why Baha Mar is such an important project for us. Its success in meeting its own financial targets and in reaching markets that are not in direct competition with other local mega resorts will have enormous consequences for us as a people, improving our livelihoods, maintaining of our way of life and delivering opportunities in this industry for our children's children. This is why I have been so focused on ensuring that the resort is completed and opened at the earliest possible opportunity."
Prime Minister Christie said that no resort of that magnitude in the region would have had this kind of simultaneous launch of multiple, large, branded properties, generating enormous social and economic impacts on a destination. In fact, the story of the evolution and impacts of Baha Mar, he added, will go down in the annals of Bahamian history as a "watershed event" that may well be studied by Bahamian and Caribbean scholars and economists for years to come.
"Baha Mar is being acquired through an Agreement and between China Exim Bank, which financed well over $3 billion in the project and Chow Tai Fook Enterprises (CTFE), an 88-year-old, family-owned international business enterprise with significant assets inclusive of the Rosewood Hotel Group, which it owns, and other landmark hotels which CTFE operates in the United States, in Europe and other parts of the world," Prime Minister Christie said. "CTFE operates over 60 hotels worldwide with an extensive distribution network as well as gaming investments and operations in Australia and other developments in the Philippines and Vietnam.
Prime Minister Christie thanked China Exim Bank who was represented here in the unavoidable absence of the bank's president by Mr. Jian Li, Assistant President and General Counsel, and the Bank's executives stationed in The Bahamas, for their "unwavering support of the Government and people of The Bahamas".
"The Joint Provisional Liquidators and Receiver Managers I thank for their diligence in asset maintenance and oversight of the restructuring and sale of Baha Mar; China State Construction Engineering Corporation represented here by vice president, Mr. Xuexuan Zheng; and China Construction America, an affiliate company and its president, Mr. Ning Yuan, for their commitment to completion of the project and other investments in our local economy," Prime Minister Christie said.
Prime Minister Christie also thanked all the Bahamian subcontractors and suppliers who have played a major part in construction. He then acknowledged the efforts of His Excellency, Ambassador Qinguo Huang of the People's Republic of China, along with his predecessor and members of his staff in facilitating communication between those parties and underscoring the importance of the project to the viability of the Bahamian economy.
"Very special appreciation goes out to the new owners of the project, CTFE, led by its Chairman, Dr. Henry Cheng, who due to illness is unable to join us today," he said.
Prime Minister Christie noted that Mr. Dan Heininger, President of CTF Development and Mr. Graeme Davis, President of Baha Mar, had worked assiduously to ensure the successful completion and opening that day.
"I wish you and your team every success in your endeavours and pledge the continuing support of the Government of The Bahamas," he said.
"I would also like to say a heartfelt thanks to the members of the Negotiating and Coordinating team who worked tirelessly along with other officials under my personal direction to achieve a most successful outcome in the completion and opening of this project," Prime Minister Christie said.
He added that they had worked long and hard on behalf of "their government and the people of this great country" to make Baha Mar a reality.
Prime Minister Christie also gave words of encouragement to the local Baha Mar staff and told them to distinguish themselves and represent well the Baha Mar brands through their work and service.
"Lift up Baha Mar, so that the world will know that, in coming here, you are coming to a destination that is one-of-a-kind," Prime Minister Christie said. "That is my wish. That is my hope for you, and if you do those things, The Bahamas will be in supreme beneficiary of your good works — and in anticipation, I thank you for it."
"As we celebrate this enormous achievement and manifestation of confidence in the government and people of The Bahamas, let us give thanks to God for all things and pray His perpetual blessings for a bright and prosperous future for Baha Mar and for the Commonwealth of The Bahamas," he said.