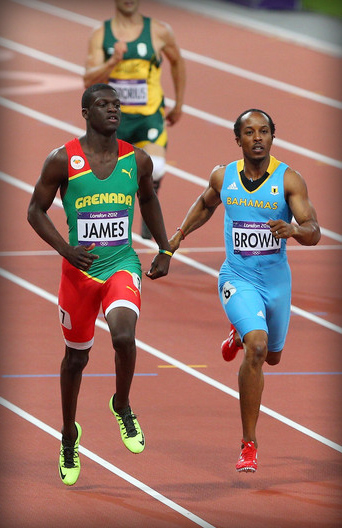 London, England – Although native Bahamians Chris Brown, Ramon Miller and, Demetrius Pinder fell short, it was evident that The Bahamas remained strong semi-finalists and eventual finalists (for Brown and Pinder) despite not medaling. Coming from a small nation, Bahamians were proud to be among the top 400 Meter Olympic finalists at the London 2012, XXX Olympic Games.
Also, despite Shaunae Miller's injury and disappointment,  The Bahamas' athletes are guaranteed to return to contend and prove that the mere set backs are only "eye-openers" of what they must do and what they can do to regroup and refocus with keen attention to win the GOLD.
Whereas it was a total Caribbean dominance in Olympic history, this event ousted seven time Olympic gold winner, the United States of America, from the fastest 400 meter event.
While Kirani James of Grenada took the gold with it being their first Olympic medal for their country, it was a no show for defending Olympic gold medalist LaShawn Merritt of the United States, who pulled up in a preliminary heat on Saturday.
Back on Bahamian soil, it gives  the Bahamas Olympic Association and the Bahamas Association of Athletic Associations a time to regroup and rethink the strategies, preparation and the move-forward with a scope to better prepare our athletes to be grounded and rooted in giving "OUR" athletes the proper tools that they need to succeed and remain strong medal contenders.
With this being signs of "disappointed" moments as noted by both Brown and Pinder, it is guaranteed that the athletes aims are to make a stronger comeback for  their country (The Bahamas)  in the 4×400 Meter Relay.
Left now are the 4×100 meter relays and the 4×400 meter relays in which The Bahamas will seed strong teams respectively for both the Men and Women events.