Christie government is committed to a balanced approach is Prudent Stewardship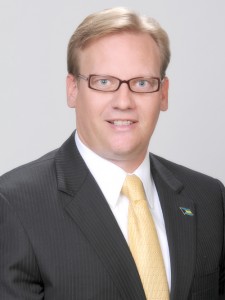 NASSAU, The Bahamas – Minister of Financial Services the Hon Ryan Pinder says the Government is taking a "balanced approach" to ensuring the continued diversification of the economy.
Making his contribution to the debate on the 2012/2013 Mid-year Budget in the House of Assembly on Monday, March 4, 2013, he said that this approach would demonstrate fiscal responsibility, yet strives for opportunities and advancements for Bahamians.
Mr. Pinder outlined three primary focuses toward this approach: One, responsible and efficient expenditures causing savings where they can be achieved. Two, ensuring revenues owed to the Government are efficiently and effectively collected without raising taxes to Bahamians and three, ensuring policies for economic growth and advancement for Bahamians and companies not only exist but are continually and aggressively advanced.
"A balanced approach is Prudent Stewardship," Mr. Pinder said as he reiterated the theme enunciated by the Prime Minister, who presented the state of the country in his the mid-year Budget Communication introduced in the House of Assembly last week.
Furthermore, the three elements of this balanced approach is controlled expenditures, collection of revenue and economic growth.
"Monitoring of expenditures, and efficient savings where possible without reducing services to the public has been put in place as an expenditure monitoring measure," he said.
Medium term government administrative reforms will likewise call for responsible expenditure control, including a modernised customs operation and infrastructure, real property tax administration, general tax collection will be more efficient under a Central Revenue Agency, which should result in medium term administrative savings to the Government, he said.
"A policy to expenditure discipline in public corporations, and encouraging efficiencies without sacrificing service to the public are bold policy pronouncements that demonstrate good governance," Mr. Pinder said.
In the area of collection of revenue, he stressed that the Prime Minister has set out a series of short and medium term efforts to cause for the more efficient and proper collection of revenues which are "properly" due the Government.
The proposed modernisation of Customs is not only intended to ensure that modes of collection are efficient, but to ensure that in all instances of customs revenue collection, the amount ultimately due the Government is collected, Mr. Pinder said.
He noted that the excise tax on tobacco is another short-term initiative to ensure proper revenues due the Government are collected.
As the Government prepares for the 2012/2014 Budget, the Prime Minister foreshadowed a comprehensive review of policies to enhance revenue collection and Government fees that would be due.
"This should be done throughout all Ministry portfolios where revenue to the Government can be more efficiently collected and otherwise adjusted to be more in line with either international or industry norms.
"It is important that our fee structure and revenue collection keep pace with industry and international norms, in doing so also ensuring to the greatest extent possible that taxes to Bahamians are not increased," Mr. Pinder said.
Turing to economic growth, he said, "good governance and responsible fiscal administration is prudent stewardship, however it does not mean that policies to advance economic growth should be ignored."
In fact, he said, prudent stewardship ensures that in all policy initiatives there is always a policy of economic growth and creation of opportunities for Bahamians.
"The Prime Minister is very clear in this regard, and in fact, in this mid-year exercise has put in place economic growth initiatives," Mr. Pinder said.