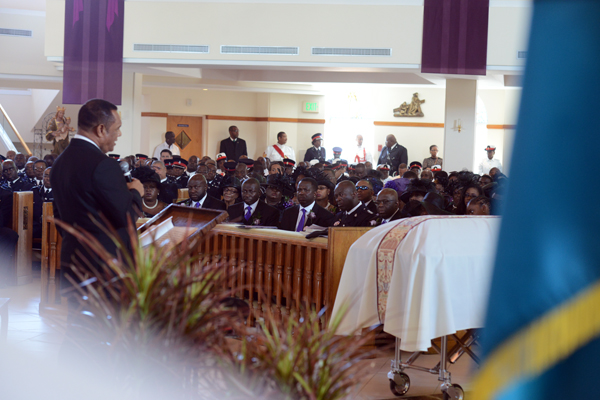 NASSAU, Bahamas — Bernard Kenneth Bonamy served on the police force for 38 years an d over half of his life was dedicated to the preservation of peace and the security of the nation, Prime Minister the Rt. Hon. Perry G. Christie said.
The Prime Minister brought remarks at the Full Military Funeral for retired Commissioner of Police Bernard Kenneth Bonamy, CMG, LVO, QPM, LLB, CLE at St. Francis Xavier Cathedral, Friday, March 8, 2013.
The top brass of the country's armed forces, members of Cabinet and Members of Parliament attended the funeral for Mr. Bonamy who passed away at the age of 67 on February 22, 2013.
Governor General His Excellency Sir Arthur Foulkes and  Lady Foulkes; former Governors General the Hon. Arthur Hanna and Sir Orville Turnquest; and senior government officials were also in attendance.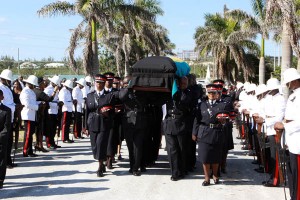 Prime Minister Christie said, "For him, policing was a calling, it was in him, and it was as Commissioner of Police that B.K. made his most important contributions to policing and national development.
"He ascended to the high office of Commissioner during the extremely difficult years when narcotics trafficking and associated criminality were at their height.
"However, he brought to the fight against these menaces an uncompromising integrity and incorruptibility which set the standard for law enforcement officers at that time and for future generations of law enforcers."
The Prime Minister said, "He was a no-nonsense police chief who insisted on discipline, professionalism, and service with honour at all levels of the Royal Bahamas Police Force."
Prime Minister Christie said a good education, was always paramount to Mr. Bonamy and he had a love for it.
"During his career, he always pushed himself and his fellow officers.  He strove to be a good example for them, showing himself to be incorruptible and proving to be a good leader.  His determination to be the best possible officer, led him to study for his LL.B, which he was awarded in 1978.  He became a lawman who not only upheld the law, but one who intimately knew the law."
The Prime Minister also noted that Mr. Bonamy had the twin distinctions of being one of the youngest police commissioners in the nation's history and the longest serving in an Independent Bahamas.
"He will also be remembered as a sound and innovative thinker and law enforcement strategist."
The Prime Minister said that along with the Minister of National Security, at the time, the late Hon. Paul L. Adderley, Mr. Bonamy was particularly instrumental in expanding and consolidating the international working partnerships between Bahamian law enforcement and their foreign counterparts, notably with the U.S. and British law enforcement authorities, and on the global level, with INTERPOL.
The Prime Minister said Mr. Bonamy's time as police commissioner is marked as being one of reform and modernity.
He explained that under Mr. Bonamy's leadership the number of police stations in New Providence grew; he initiated the Police Staff Association; the computerisation of the force began under his leadership and he implemented many crime strategies that were new to the force.
"He sought to make the Royal Bahamas Police Force one of the best in the region.  His eye for talent, led him to make good choices and place officers in departments where they could shine and gain more experience.
Prime Minister Christie said, "This meant that there was not only an improved, more efficient police force, but officers who were genuinely happy serving in their areas of talent or expertise."
For stellar service to his country, Mr. Bonamy received many awards.  In 1985, Her Majesty Queen Elizabeth II bestowed the Lieutenant of the Victorian Order on him and in 2000, he received the prestigious Queen's Police Medal.  He is also a Companion The Most Distinguished Order of Saint Michael and Saint George.
After retiring, he continued to give distinguished service as Secretary to the Gaming Board, and in more recent times as a practicing member of the Bahamas Bar.
Mr. Bonamy is survived by his wife Shirley, six sons and two daughters and numerous grandsons and granddaughters.