GG welcomes promoted Defence Force Officers to Government House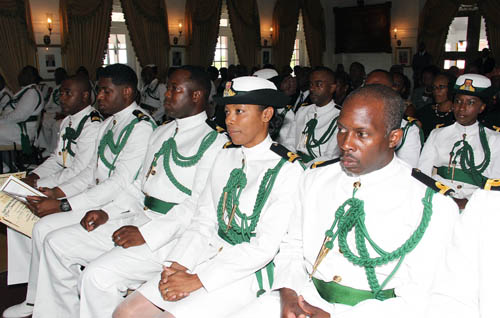 Nassau, The Bahamas –  Governor-General Sir Arthur Foulkes  commissioned 17 Officers of the Royal Bahamas Defence Force (RBDF) and called on them to exercise greater levels of leadership, integrity, discipline and professionalism in their duties.
"You are called on to exceed our expectations and provide superior service to your country, communities and organisation as indicated in your Officers Creed," said Sir Arthur.
The officers received commissions (instruments of authority) and swords during a special ceremony in the ballroom of Government House on July 25.  Among those witnessing the event was the Minister of National Security the Hon. Bernard Nottage, Permanent Secretary Carl Smith, Commodore Rodrick Bowe, senior Government officials, family and well-wishers.
The Governor-General cited the Defence Force Officers Creed adopted from the Force's 2011-2015 Strategic Plan which he said highlights and identifies both the standards and expectations for officers who have been granted the privilege to command and exercise authority in the RBDF.
In his remarks, Sir Arthur noted Captain James Cook and British admiral David Beatty, two renowned figures in the history of the Royal Navy known for their contributions to the naval service. "Their contributions have been written and their services immortalised," said Sir Arthur. "We have this same expectation for Officers of the RBDF not only to defend the territorial sovereignty of the Commonwealth of the Bahamas, but also to make a substantial difference within the service, in our communities and in our nation."