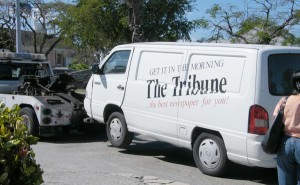 The Ministry of Social Services and Community Development wishes to respond to the article "Activist Calls for Clearer Details on Rise in Child Abuse" by Ava Turnquest that appeared in The Tribune of Monday, June 15, 2015.
The article quotes a number of statements reportedly expressed by Mr. Tavarrie Smith, and reference is made to a 22 per cent increase in child abuse cases.
The Ministry wishes to advise the public that child abuse statistics are not static; they fluctuate depending on any number of things. Indeed, the number of child abuse cases reported to the Department of Social Services in 2011 and 2012 were 636 and 663 respectively, which are higher than the reported 597 cases in 2014.
Sadly, the level of child abuse in our country remains unacceptable. The Department of Social Services of the Ministry of Social Services and Community Development has responsibility for investigating reported cases expeditiously. The Department, however, does not do this alone; there are many partners in the process, particularly the police force, schools, the hospital and health clinics. The safety of children is paramount and actions are taken to ensure this.
The Ministry is appreciative of the work of its partners in addressing child abuse especially The National Child Protection Council, the Suspected Child Abuse and Neglect Unit (SCAN) of the Ministry of Health, The Ministry of Education, Science and Technology and The Royal Bahamas Police Force.
Child abuse is wrong, it is harmful and no child should be subjected to abuse from anybody. We will continue our efforts to educate and inform persons about abuse. While action is taken by the Department, the Council and other agencies throughout the year to provide information on child abuse and its prevention, these efforts are coordinated and intensified in the month of April, which for the past several years, has been observed annually as Child Protection Month. The theme for this year was "Working Together to stop Child Abuse".
The public is reminded that suspected cases of child abuse can be reported to the Department of Social Services by way of the national hotline and these numbers are 322-2763 or 422-2763.