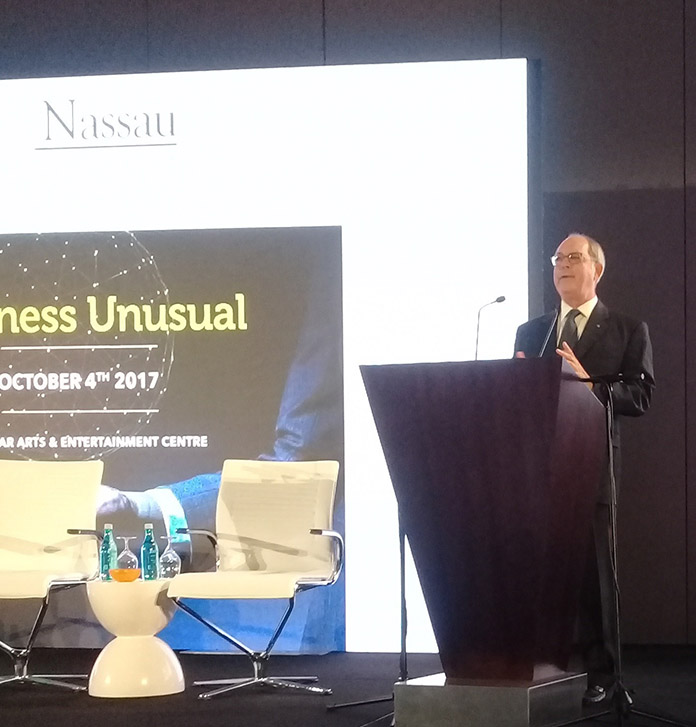 NASSAU, The Bahamas – Minister of Financial Services, Trade & Industry and Immigration, the Hon. Brent Symonette, said that measures must be taken to keep the country on the competitive edge of the Financial Services sector. The Minister made the statement while delivering opening remarks at the Association of International Banks and Trusts (AIBT) Nassau Conference, which was held October 4 at Baha Mar Arts & Entertainment Centre.
"Changing the way we do business must be our focus in both private and public sectors because what we are doing now is just not enough," said Minister Symonette. "We must be forward thinking to open our economy so that we can advance ourselves."
He applauded the AIBT for sponsoring the Nassau Conferences and their
"collaborative efforts" with industry stakeholders along with the Ministry to ensure that The Bahamas remains a premier international financial centre in this jurisdiction.
Commenting on their theme, 'Business Unusual', he said that it was "most relevant" to The Bahamas at this time.
"We recognize that there are many untapped opportunities out there and my Ministry is open to the voices of our private and public sectors," he said. "Together we must be the catalyst to develop solutions to create opportunities to enact change and grow our economy. "
He said that it was his "vision" that this shift in mindset would allow for a more competitive environment which would start with legislative reforms that would be superior to or on par with competing jurisdictions.
"This shift has to be centered around changing the way we transact business in this country. My Ministry has identified some quick fixes which will allow for ways to open the door to the global economy."
He listed four things that can be done to enhance the country's position. These four areas include: development of more innovative products and services to attract a new client base; revamping of government agencies to provide for a more efficient and productive customer experience to both local and international clients; relaxing and amending of the immigration process; and allowance for the exchange of professionals.
"We see an opportunity in the legal profession in the area of International Arbitration lending to expertise in trust and maritime business," he said.
The conference featured speakers from a cross-section of professionals representing financial jurisdictions both local and international. Topics included: The Global Marketplace; Global Regulation of Financial Services; Planning In Uncertain Times; Business Unusual; and An Actionable Framework for Success in The Bahamas.