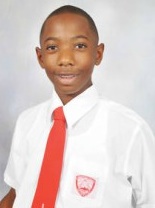 By Oswald Brown
WASHINGTON, D.C. — Bahamians who are planning to follow the progress of Bahamas National Spelling Bee champion Donovan Aaron Butler in the Scripps National Spelling Bee later this month will have to wait until the Third Round afternoon session on Wednesday, May 25, to find out whether he correctly spells the first word given to him.
In past years, the speller from The Bahamas was Speller No. 8, based on the alphabetical listing of the U.S. state or country that the speller represents, but this year the champion from The Bahamas, Donovan Aaron Butler, is Speller No. 243 among the 285 spelling champions participating in this year's competition, which will be held May 22–May 27, at the Gaylord National Resort and Convention Center in National Harbor, Maryland, near Washington, D.C.
The competition actually begins on Tuesday, May 24, when all spellers will take the Preliminaries Test together in the Maryland Ballroom from 8:30 a.m. to 9:30 a.m.
The onstage Preliminary Rounds Two and Three, when contestants will be given words to spell, will be on May 25, with half of the spellers competing from 8:00 a.m. to 11:45 a.m. and the other half from 1:15 p.m. to 4:45 p.m.
The announcement of finalists will immediately follow the conclusion of Round Three and will be broadcast live on ESPN3.
The finals will begin on Thursday, May 26, at 10 a.m. and continue later during prime time beginning at 8:00 p.m.
Donovan, a 13-year-old eighth grade student at St. Augustine's College in New Providence, won the Bahamas National Spelling Bee at the Atlantis Resort on Paradise Island on March 20 when beat out 19 other finalists.
The Scripps National Spelling Bee is largest and longest-running educational promotion in the United States administered on a not-for-profit basis by The E.W. Scripps Company and local spelling bee sponsors in the United States, American Samoa, Guam, Puerto Rico, the U.S. Virgin Islands, and Department of Defense Schools in Europe; also, The Bahamas, Canada, Ghana, Jamaica, Japan and South Korea.
Its primary purpose is "to help students improve their spelling, increase their vocabularies, learn concepts, and develop correct English usage that will help them all their lives."
The Bahamas has participated in the annual event since 1998.