Nassau, Bahamas — Hubert Ingraham will soil his pants today when he reads what we have in store for him. Parliamentarians paid tribute in a special sitting of the House for the late Milo Butler Jr. Ingraham decided to go down memory lane and talk some things many Bahamians have little knowledge of. And whilst he hailed the former Speaker of the House, he decided to show how radical he [Ingraham] was in the early days of the PLP.
Ingraham began telling how he and a few backbenchers wanted Butler Jr. to be appointed Speaker in 1977, but the leadership at the time rejected that offer. He noted that Butler was, "One of us", a newcomer to the House, who had just join the PLP's parliamentary team. Ingraham when on to describe the turbulent times of the 1980s when SCANDAL, CORRUPTION and DRUGS rocked the country. It was a rough time for the leader of the PLP he said, adding that voices like his got louder.
"You see Mr. Speaker, I was a leader of that group, who knocked at the door of the PLP telling them in the leadership that it was time for them to go," Ingraham said. I was one who was kicked out of the party and the member for Farm Road [Christie] only had his candidacy denied.
Bahamas Press knows a lot about that period, and we think it is time to tell the people just why Pindling kicked Ingraham and Christie out of the Cabinet in 1984. You see, both men and another elder gentleman thought Pindling was out staying his welcome as head of the country, and they being the radicals they were at the time, wanted Pindling OUT! Arthur Hanna, the current Governor General, decided to do the 'honourable thing' and resign as Deputy Prime Minister. That Hanna did. But those two goons named Christie and Ingraham could not find the testicular fortitude to do the same. Yet they both plot and schemed to destabilize Pindling leadership, and when they were both asked to tender their resignations they declined to do so.
Bahamas Press has attained a letter that was in the possession of Sir Lynden, which we now know forced his decision on Ingraham. Let is explain.
On September 21st, 1983, Hubert Ingraham wrote Andrew Antippas, US Deputy Chief of Missions at the US Embassy here in Nassau. Ingraham wrote:

We hope someone tell Ingraham, plenty more letters like this are now in our possession, and we await his response. We know he will not respond, because the other letters tell a chilling tale on the sitting Prime Minister.
Pindling caught on very early, and everyone knew he had 'SPECIAL HATE' for "SNITCHES","SELLOUTS" and "FAKES"! Especially for those who sat 'WICKEDLY' around the People's Cabinet table! Pindling wanted both men who possessed such characteristics to resign, they didn't and so he fired them both.
To this day the public is still locked on the question as to why nothing has changed in the last 15 years? We at Bahamas Press say, nothing will, until the people of this country come together [PLPs and FNMs] and accept that both Ingraham and Christie are NO GOOD FOR THE BAHAMAS! They have traded the trust of the people of the Bahamas! They have worked long and hard to sell our land, sell our assets and now our people are being sent home. Ingraham is now firing, whilst Christie sits idle and says nothing!
We NEED CHANGE BAHAMAS! CHANGE MUST COME! LET'S GET RID OF THEM BOTH!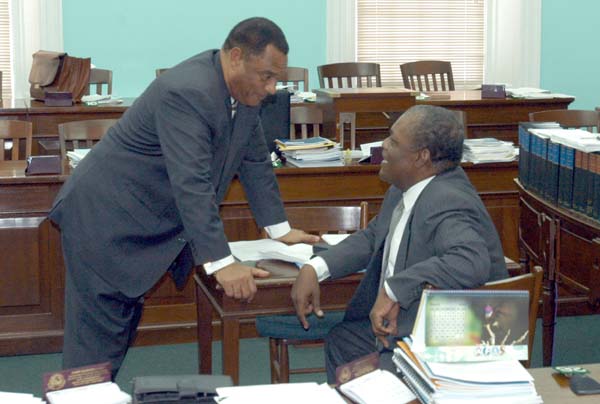 The two men who conspired together to get rid of Pindling.