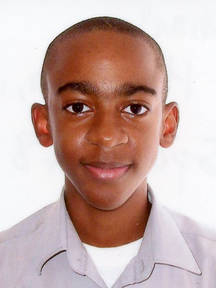 Charles Hamilton Jr.
WASHINGTON, D.C.  – When he competes next week in the Scripps National Spelling Bee at the Gaylord National Resort and Convention Center in a suburban area of Washington, D.C., Bahamas Spelling Champion Charles Hamilton Jr. will be Speller Number 8 among the 285 spellers who will competing for the 2015 Scripps National Spelling Bee Champion title.
Bee Week 2015 will take place May 24–May 29, with the onstage rounds of competition scheduled for May 27 and 28 in the Maryland Ballroom within the Gaylord National Resort and Convention Center in National Harbor, Maryland.
Hamilton, a 12-yer-old eighth-grade student of St. Anne's School in Nassau, is being sponsored by the Nassau Guardian. He the only boy among the 20 finalist in the 18th Annual Bahamas National Spelling Bee on March 22 in the Crown Ballroom at Atlantis, but he emerged as the overall winner.
Here's what his profile of the Scripps Spelling Bee website states: "Charles doesn't bat an eye at 864 pages; in fact, his favorite book, Tolstoy's Anna Karenina, is just that long. When he isn't reading, Charles also enjoys putting in time figuring out riddles and solving puzzles. His other hobbies include swimming and playing soccer, and he aspires to be as great as his favorite soccer player, David Beckham. In his free time, Charles loves listening to music from the likes of Freddie Mercury and playing both the guitar and piano."
The Scripps National Spelling Bee is the longest running educational promotion, administered on a not-for-profit basis by The E.W. Scripps Company and local spelling bee sponsors in the United States, American Samoa, Guam, Puerto Rico, the U.S. Virgin Islands, and Department of Defense Schools in Europe; also, The Bahamas, Canada, China, Ghana, Jamaica, Japan and South Korea.
Its purpose is to "help students improve their spelling, increase their vocabularies, learn concepts, and develop correct English usage that will help them all their lives."
Among the prizes the champion will receive this year are:
•From Scripps, a $30,000 cash prize and the Scripps National Spelling Bee engraved trophy
•From Merriam-Webster, a $2,500 U.S. savings bond and a complete reference library
•From Encyclopædia Britannica, $1,100 of reference works including the Britannica Global Edition, 1768 Encyclopædia Britannica Replica Set Deluxe Edition, and 3-year membership to Britannica Online Premium