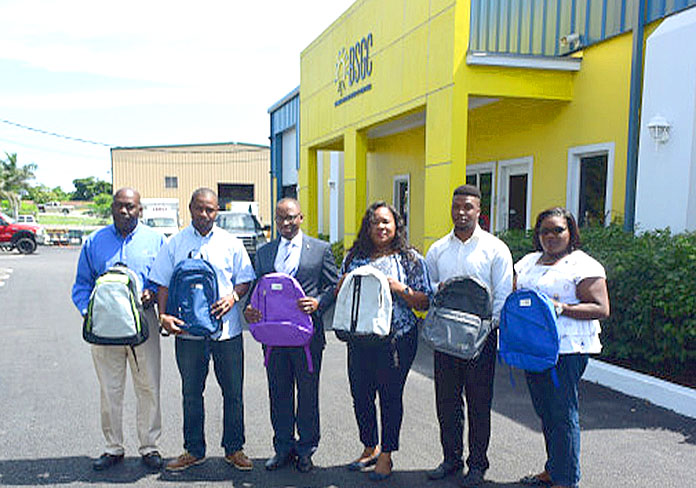 By Kristen Jones, The Calabash Group
Nassau, Bahamas – Philanthropy is one of the cornerstones of Bahamas Striping Group of Companies (BSGC).
Since the company's inception, BSGC has always had a longstanding history of supporting various nonprofit organizations in the community.
In the past, the company considered donating food because of its tangibility and demand. However, the Principals of Bahamas Striping made the decision that while undertaking corporate social responsibility initiatives is truly a win-win, investing in a child's education through the donation of necessary school supplies such as school bags complete with the basic tools is the best investment that can be made in the youth of The Bahamas.
This year BSGC has partnered with Betty K Agencies and Island Maritime as their corporate partners as well as Rotary International and The Kiwanis Club of Fox Hill, East Nassau who will be their community outreach partners.
BSGC President, Atario Mitchell indicated that this partnership is an example of the good work that can be achieved when corporate Bahamas joins forces in initiatives which the community at large can benefit.
"It is tough out there and some families cannot see their way clear and hopefully this donation will go a long way to ease the burden for some families as they prepare for back to school," said Mitchell.
Mitchell added that the company has been donating school supplies for the last five years. In the initial phase, BSGC donated three thousand (3,000) to five thousand (5,000) backpacks and as the company experiences growth the level of donation also increases.
Through community service Rotary Bahamas' mission of Serving Humanity, Service Above Self is the ideal partnership for this project.
Mario Smith, Assistant Governor of Rotary Bahamas stated that the Rotary year has recently commenced and the challenge for the new year is to foster better collaborations and partnerships within the community.
"Bahamas Striping has proven to be a great company with a social conscience, and we are pleased to see the increase in distribution to the Family Islands especially the cays as those economies are hurting more than Nassau," Smith said.
The Back to School program also fosters relationships with local charities.
Anithra Lynette Cartwright, Kiwanis Club President, Fox Hill, East Nassau indicated that through their work with students from the Sandilands Primary School they have recognised that they are lacking the necessary school supplies to complete their work. Bahamas Striping is a true example of a corporate and social partner and these bags will go a long way in assisting parents in back to school preparations.
The school bags will not be donated from the BSGC Headquarters, however they will be distributed through Rotary, Kiwanis and the other participating charities.