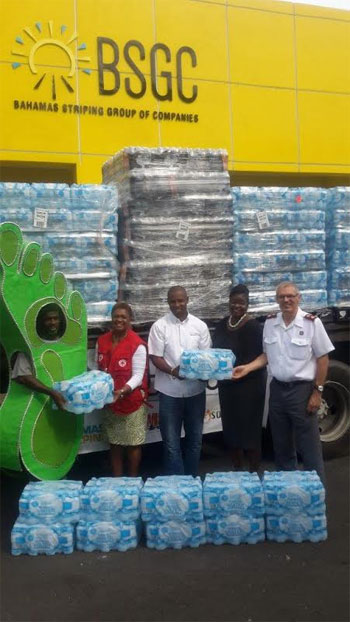 In response to Hurricane Joaquin, The Bahamas Striping Group of Companies initiated its relief efforts with its partners Hi-Lite Global, Seaboard Asphalt, and Trans Ocean Photos, Inc to donate over twenty thousand bottles of water to The Bahamas Red Cross Society and The Salvation Army in aid of the organizations' hurricane relief and recovery efforts for the southern islands that were affected.
President of Bahamas Striping Group of Companies, Atario Mitchell said his company feels a responsibility to make sure that they assist in taking care of persons in the southern islands, who have lost all of their belongings. Many other small business should also find ways to contribute whatever they can to uplift and rebuild the islands affected because now is the time for all Bahamaians to band together to provide a sense of hope and assist in re-energizing the economies of all islands.
He added, "In previous hurricane relief efforts, we have always donated water because it is one of the most important resources. Procuring safe drinking water is critical. In addition, because of the level of flood waters, there is the potential that the water can possibly be contaminated and persons would need pure water to brush their teeth, and to cook a meal for their families."
On Tuesday, Mrs. Jan Mackey, Human Resources and Logistics Manager of The Bahamas Red Cross graciously accepted the donation.
She said the water is a tremendous help because it is included in all of their parcels with food, clothing, and hygiene products.
Mrs. Mackey indicated, "We are working with our team members in all of the islands to ensure that all Bahamians who are in need, receive aid and support from The Red Cross."
The Bahamas Red Cross has already delivered parcels to San Salvador, Long Island, and Rum Cay, and within this week, shipments will be sent to Acklins and Crooked Island.
Major Clarence Ingraham, Divisional Commander of The Salvation Army said that his organization is working along with NEMA, and are in the process of gathering water and clothing to send to the islands later on in the month, as the islands are presently receiving lots of assistance.
He added, " Our main effort will be reconstruction of roofs and possibly replacing windows on homes that received extensive damages. We are gathering our resources, because it will be a major effort to get building items to the islands that need it the most.We do not have the funds to rebuild homes, but we can assist in the best way that we can."