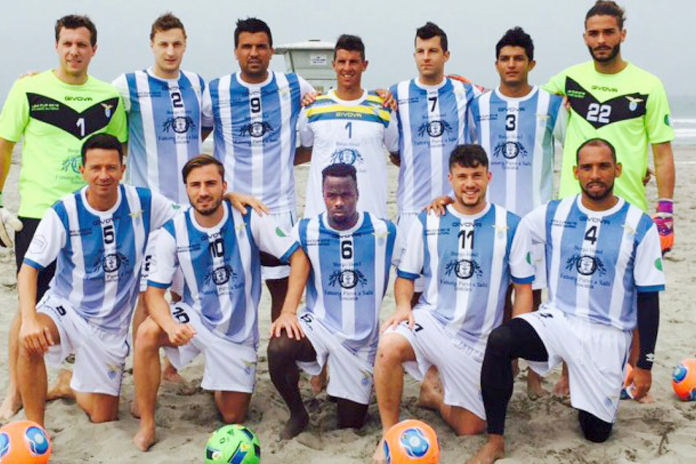 Bahamian international beach soccer superstar Lesley St. Fleur scored his first goal playing for Lazio this week when the team squared off against No. 4 Tahiti during a friendly match leading up to the 10th edition Beach Soccer USA Cup which takes over Oceanside, Calif., this weekend.
The Lazio victory was the second big win this month for the player who also led Montego Bay United FC to the championship in Jamaica's Red Stripe Premier League.
"He trains hard in Jamaica," said Jason McDowall, Vice President for Bahamas Football Association. "And now to win for the first time ever playing with Lazio in California—it's a fantastic experience for him."
Hot on the heels of his landmark triumphs, St. Fleur will head to Italy to continue training with Lazio before joining up with The Bahamas Men's National Beach Soccer Team in mid-June. The Bahamas team will spend two months in Europe this summer participating in friendlies against Switzerland, Germany, France and, potentially, Spain, as part of their preparations for the FIFA 2017 Beach Soccer World Cup set to take place at the The Bahamas Football Association's (BFA) Beach Soccer and Futsal Facility in New Providence, Nassau, on April 27, 2017.
"He's a leader on team and probably our best player," McDowall said. "He's always selected and called up. He knows what it takes to be a team player."
The beach soccer star made his debut for The Bahamas in a September 2006 Caribbean Cup qualification match against the Cayman Islands and has earned a total of 12 caps, scoring 6 goals, representing his country in seven FIFA World Cup qualification games. In a 2014 FIFA World Cup Qualifier in July 2014 The Bahamas beat Turks & Caicos Islands 6-0 with five of those goals scored by St. Fleur.
"St. Fleur has become a fan favourite for his great goal record," McDowall said, adding that he's a huge draw when he plays in Nassau. "He's always the smallest guy, but he's very fast and very fit. He's the only professional player in the country and he knows what he has to do."