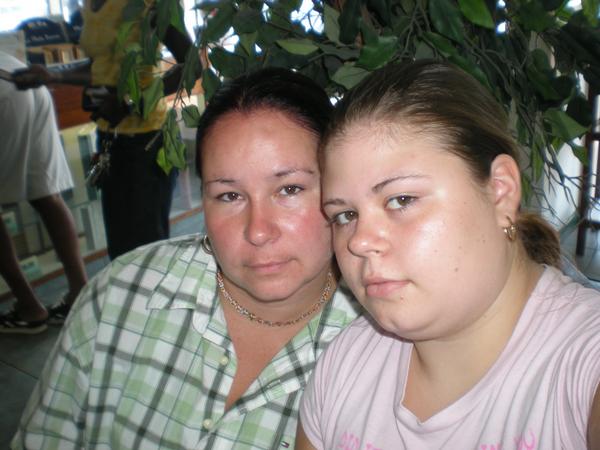 <<< Murdered victim Anna Garrison and her daughter Madison Pugh, the second suspect who fled The Bahamas her mother's murder.
Nassau, Bahamas — Now the WUTLESS Tribune knows that that drunken officer under Potter's Cay dock was wrong! Now the Tribune knows Bahamas Press and its affiliates in West Palm Beach were right. Now the public knows they cannot believe a word the Tribune writes anymore! THEY ARE WUTLESS!
On Friday last week Bahamas Press confirmed that young Madison Pugh, the daughter of the late Anna Garrison, was found in Kennett Square in Pennsylvania.
Anna's remains were discovered July 4 weekend wrapped in plastic and covered in a sheet on Fox Hill Road. She was murdered. She was reported missing by the US Embassy sometime in February.
We reported Madison was found living with her father Chris Pugh in Kennett Square. On Monday past, the ill-advised Tribune said that our story was not true. Well it is clear, The Tribune, The Guardian, The Police, and everyone else across the country, is reading BP! And though they will not credit us by name for our up-to-the-minute accurate report of news, today we now all know, detectives of the Royal Bahamas Police Force are in Kennett Square talking with young Madison. Now how did that happen?
Shortly before her mother's body was discovered, Pugh left her home here in Nassau and fled to her father's home in Kennett Square Pennsylvania.
Bahamas Press can now confirm Bahamian police arrived in Kennett Square, Pa., on Thursday morning and has questioned family members and Pugh about Anna Garrison's slaying. Some members of the family got more with Anna's investigation from BP, and we are told some were upset with police for their silence on the investigation. [Police in The Bahamas only releases details of a crime when a PLP is involve. Bridgewater's case a good example of that! They held press conferences almost every day fishing details to the WUTLESS MEDIA!]
Family members confirm Pugh was living with her 22-year-old boyfriend, Zyndall McKinney. Bahamian police arrested him in connection with the murder.
Officers from Nassau and the US FBI agencies are now in Kennett Square. Reginald Ferguson told a US news agency his department is following all leads into the case.
We ask this question, if the police under Potter's Cay dock told the Tribune he knew nothing about Madison being found and the Tribune said what we reported was untrue, why detectives are now in Pennsylvania talking with Madison? Oh my goodness, the Tribune has not only lost readership, but their sources are now giving them misinformation.