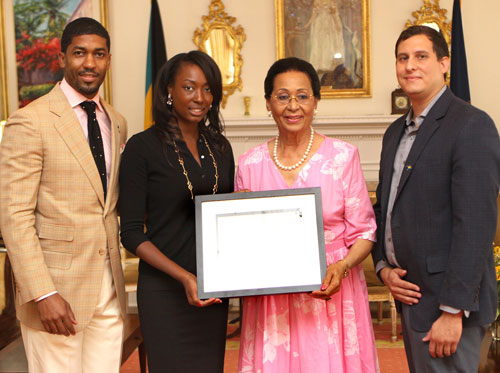 Nassau, Bahamas – A presentation is made to Governor-General Dame Marguerite Pindling by Aisha Bowe rocket scientist and CEO of STEMBoard during a visit to Government House, July 30.
Also pictured are Derek Fonzworth Bentley, an American entertainer, and John Martellaro.
Miss Bowe is in Nassau conducting a summer camp, Bahamas Engineering and Technology Advancement Camp (BETAC) from July 28-August 1.
STEMBoard is a woman-owned technology solutions company, BETAC is designed to introduce students to science and math fundamentals while helping them build a strong foundation in engineering.
"STEM skills are crucial to developing the global workforce of the future," STEMBoard Co-Founder and CEO Aisha Bowe said. "With the proper foundation, today's Bahamian youth have the potential to be tomorrow's leaders and innovators."
Statistics from the Bahamas Junior Certificate examinations underscore there is a dire need for educational intervention through hands-on learning and exposure. This year's camp is divided into six streams: Chemical Engineering, Biomedical Engineering, Mechanical and Aerospace Engineering, Civil and Environmental Engineering, Electrical Engineering, and Computer Science and Web Development.
"It's so important we invest in our Bahamian youth," said Trenicka K. Rolle, co-founder and president of BETA. "With this camp we desire to ignite a passion for STEM within these students, while giving them the tools to improve performance in math and science and direction for careers in engineering."
WEBSITE: http://www.betac242.com/