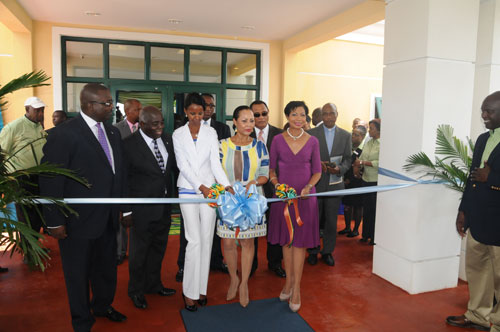 Nassau, The Bahamas – The Bahamas Agricultural and Industrial Corporation (BAIC) has opened a 10,000 square foot facility to house executive offices and a training centre. The building, the only one of its kind in the country, will save the government over 40 percent in energy cost due to its use of solar energy. During the official opening ceremony held at its location in the Soldier Road Industrial Park, on Friday, July 25, Prime Minister, the Rt. Hon. Perry G. Christie said that the 'occasion represented a great step in the accomplishment of the self-sufficiency ideal.
"I am particularly pleased, with its futuristic design and how that will affect the operation cost of running BAIC," said Mr. Christie. "I am also very impressed with the level and quality of craftsmanship that was put into the building of this beautiful edifice and how the design was worked into our general philosophy of energy conservation."
Mr. Christie made reference to the Bahamas Agricultural and Marine Science Institute (BAMSI), located in North Andros and said that BAIC will play an instrumental role in providing support to the institute.
"BAMSI is a huge investment in the future development of our country," he said. "It is a true representation of the way forward for this country. But even in its infant stage, BAMSI impressively clarifies our vision for the future development of The Bahamas. BAIC will have a leading role to play in the success of BAMSI, given its mandate to stimulate, facilitate and encourage the development of agriculture in The Bahamas and for related purposes."
Also in attendance was Deputy Prime Minister and Minister of Works and Urban Development, Hon. Philip E. Davis, who delivered brief remarks. Mr. Davis also spoke about BAMSI and the role of BAIC.
"The idea of food is no longer a distant dream, in fact, the time is very near when we will begin a very real way feed ourselves," said Mr. Davis.
Minister of Agriculture, Marine Resources and Local Government, Hon. V. Alfred Gray, lauded the efforts of Executive Chairman of BAIC, Hon. Arnold Forbes. He called Mr. Forbes a 'very able and energised Executive Chairman who accomplishments identify him as the 'right' person to head BAIC's management team.
executing his plans for the Corporation and also the plans of the Government," said Mr. Gray.
Executive Chairman, Hon. Arnold Forbes said that the new facility epitomises the government's mandate of 'self sufficiency.