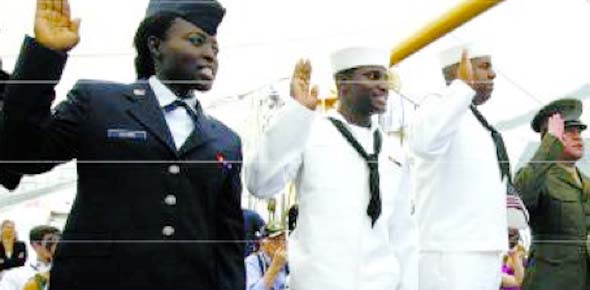 Nassau, Bahamas – If you read the Tribune page two on Friday, you would have noticed a story where a Bahamian took the oath of citizenship in the United States of America.
The young woman who became an American is, Magdala Destima. On August 5th  she took the oath, according to the Tribune, while in New York on the US Coast Guard Barque EAGLE.
What we found interesting was the fact that miles away in New York the Tribune could land in its pages a photo of a naturalization ceremony in the United States of America, but every Monday godsend, when a naturalization ceremony is taking place in the Bahamas, the cameraman of the Tribune cannot get there. Isn't that interesting?
We ga put the Tribune on notice once and for all. Go to the Hawkins Hill Immigration office and show us who are becoming citizens of the Bahamas and then we 'ga' take 'yall' serious. What kind a game are yinner in the Wutless LAME-STREAM late again media playing with the Bahamian people?
NO DAMN SHAME!