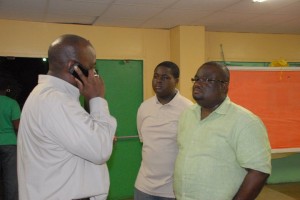 Nassau, Bahamas — Bahamas Press is followed today a group of DNA members who landed at LPIA around 5PM following a trip in the Berry Islands.
The group landed on the island on a fact-finding mission. We are told as the team read BP this week and heard of how a woman cussed Papa out at the Coolie Mae's restaurant, they decided to travel to the community to see if they could find that angry FNM.
The team left LPIA shortly after midday today and was seen walking around the community by 12:30PM.
The group is campaigning for captain Randy Butler who has yet to announce whether or not he hired a single individual following a DNA/Sky Bahamas job fair.
Over 500 persons showed up at the job fair help just before school closed. DNA leader, Branville McCartney, was also in attendance, however, no vacancy we are told was available at the airline at the time of the fair. What a way to flip, flop, fool and flam voters!
Meanwhile, members of the PLP headed by Christie were off to Long Island today in what appears to be a seat that could be picked up by the opposition. We are told the leader of the PLP also got an update of the dengue situation on the island, which has rocked New Providence.
Christie moved through the island in a force unseen since the beaten he put on Ingraham and the FNM in 2002.
He could be heard telling residents "come with us" as the family islands all across the country are going with the PLP!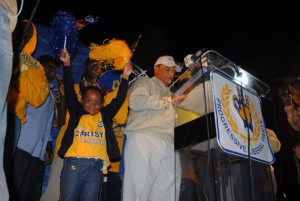 A Long Islander on the Christie stop told BP, "From the way things looked in Long Island today, Perry Christie will certainly not only return as Prime Minister, but he will return to Parliament with a Long Island seat in the column."
PLP candidate Alex Storr is the PLP Young Turk candidate working the ground like a farmer in the constituency.
Young Long Islanders boycotted an FNM banquet a few weeks ago, as residents are angry by the unchristian treatment delivered to them by the FNM administration.
A voter on the island embracing Christie was overheard saying, "We cannot take the FNM no more, we going with Storr."
Right now happening on island of Exuma, young PLPs have gathered in huge numbers in a youth rally and block party on the island. Teams of young PYL members we are told have flocked to the island since Thursday to support PLP candidate, Anthony Moss.
We can do Better!