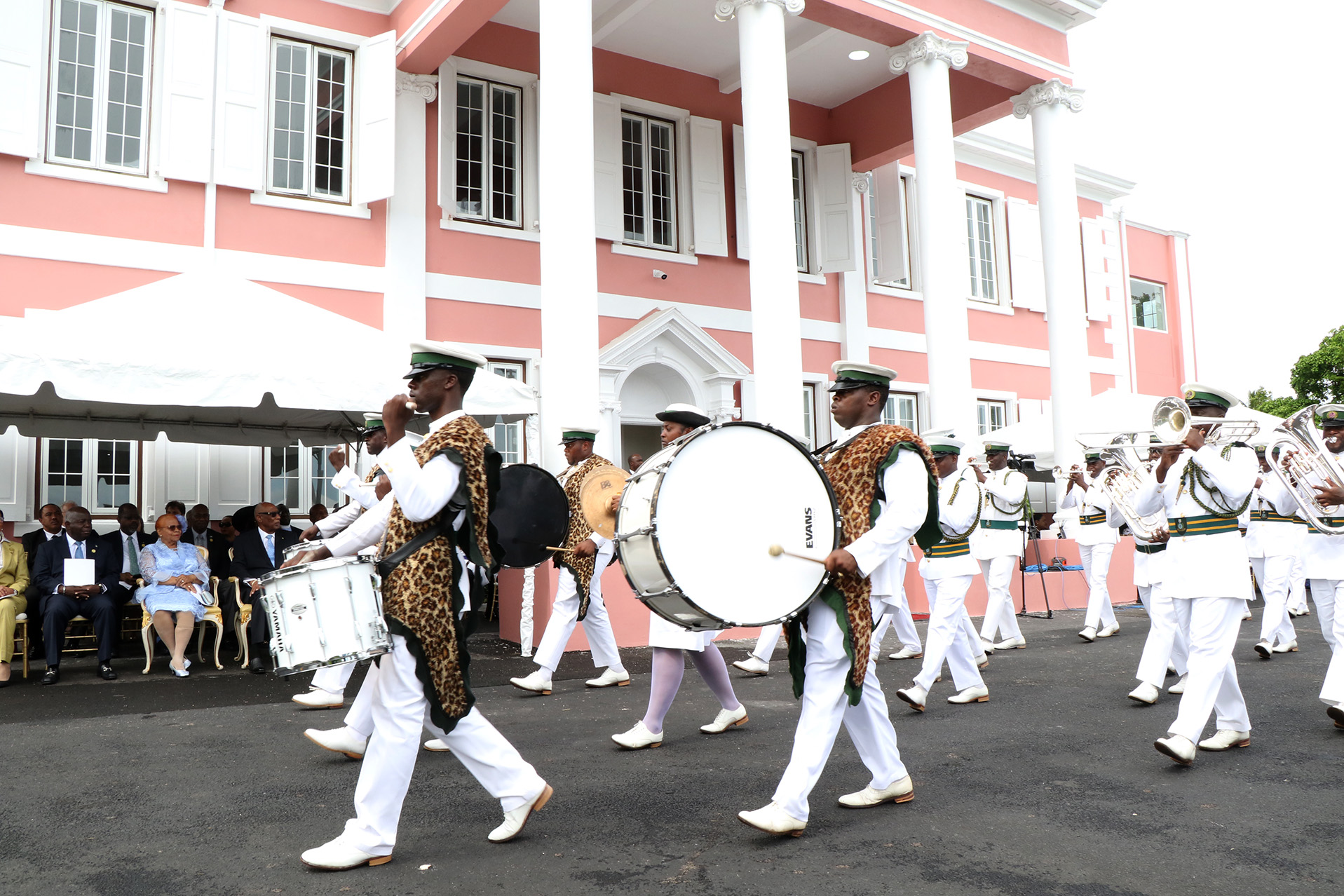 STATEMENT| His Excellency the Governor-General, Sir Cornelius Smith ON GCMG, acting on the
recommendation of the Prime Minister, based on the advice of a blue-ribbon group comprising
eminent historians, distinguished retired public servants, and leading figures in the media and
cultural community, is pleased to announce for general information that the persons named
below have been selected for the Special Golden Jubilee of Independence Award in recognition
of their outstanding contributions to The Bahamas in various spheres of human endeavor
encompassing both the pre-Independence and post-Independence periods of Bahamian history.
This Special Golden Jubilee Award is conceptually similar to the award made in 1998 on the Silver
Jubilee of Independence except that on this historic occasion, the Award has been expanded to
include not only persons who are still living but also, in approximately equal number, persons
who are to be honoured posthumously.
The Special Golden Jubilee Awards will be formally presented at a public ceremony later this year
at which time a special commemorative book containing brief biographies and photographs of
the honourees will be published as well.
It is to be noted that the Special Golden Jubilee Award is distinct from the awards under the
National Honours system which will be the subject of a separate announcement on July 10th, 2023.
Mr. Cleophas Adderley Jr. – OBE (posthumously)
Dame Anita Mildred Allen – DBE
The Rt.. Hon. Paul L. Adderley – CB (posthumously)
Mr. Rodney E. Bain – CMG (posthumously)
Sir Baltron Bethel – KCMG, CMG
Mrs. Marion Bethel-Sears
Sir Michael Barnett – KT.
Mr. Edward Clement Bethel (posthumously)
His Excellency Eldred Edison Bethel (posthumously)
Dr. Keva Bethel – CMG (posthumously)
The Rt. Hon. Dame Janet Gwennett Bostwick – CB, DBE
Dr. Cornville Brown – CD
Rev. Dr. H.W. Brown (posthumously)
Mr. Jackson Burnside III (posthumously)
The Rt. Excellent Sir Milo Boughton Butler- NH, ON, GCMG, KT,GCVO (posthumously)
Mr. Ronnie Butler – MBE (posthumously)
Rev. Kenris Carey – OBE
Sir Edward Charles Carter – KCMG (posthumously)
Mrs. Eileen Dupuch Carron – CD, CMG
The Most Hon. Sir Gerald Cash – ON, GCMG, KT, GCOV, KCVO, OBE (posthumously)
Mr. Jasrado Prince Hermis Arrington Chisholm Jr.
The Rt. Hon. Perry Gladstone Christie
Mr. Winston Cooper (posthumously)
Dr. Desiree Cox
Mrs. Sheila M. Culmer
The Most Hon. Sir Clifford Darling – ON, KT,GCVO, (posthumously)
The Most Hon. Dame Ivy Dumont – ON, GCMG
Sir Alfred Etienne Jerome Dupuch – KT, OBE (posthumously)
Rt. Reverend Michael Hartley Eldon – CMG (posthumously)
His Grace Bishop Neil C. Ellis – CMG
The Rt. Excellent Sir Randol Francis Fawkes – NH, KT (posthumously)
The Most Hon. Sir Arthur Foulkes – ON, GCMG, KCMG
The Hon. Carlton E. Francis – CB (posthumously)
Mr. Percy Francis – MBE
Mr. Stephen Gardiner
Mr. Edward Gerald Patrick St. George – (posthumously)
The Rt. Hon. Timothy Gibson –CB, MBE(posthumously)
His Grace the Most Reverend Drexel Gomez – CMG
Mr. Peter John Goulandris – CBE
Captain Betram Rolly Gray – OM, MB (posthumously)
Sir Burton P.C. Hall – KT
The Most Hon. Arthur D. Hanna – ON (posthumously)
Sir Frederick Asa Hazelwood – KCMG
The Rt. Hon. Hubert Alexander Ingraham
Mrs. Mary Ingraham (posthumously)
The Rt. Hon. Sir Kendal G.L. Isaacs – CB, KCMG, CBE (posthumously)
His Excellency Wendall K. Jones
The Hon. Dame Doris Johnson – OB, DBE (posthumously)
Sir Geoffrey Adams D. Johnstone – KCMG (posthumously)
Mrs. Nikki Kelly
The Rt. Hon. Sir Durward Knowles – CB, KT, OBE (posthumously)
Mr. Richard Brent Malone – MBE (posthumously)
The Rt. Hon. Sir Clement T. Maynard – CB, KT (posthumously)
Mrs. Margaret McDonald – CBE, CVO (posthumously)
Mrs. Patricia Glinton-Meicholas – OM
Mr. Eddie Minnis
Ms. Mary Moseley – (posthumously)
Captain Fernley Palmer – MBE
Dr. Sandra Dean-Patterson – OD
His Grace the Most Reverend Patrick Pinder – CMG
The Hon. Cynthia Pratt – CD
Monsignor Preston Moss – OM, CMG (posthumously)
Dr. Myles Egbert Munroe – MB, OBE (posthumously)
The Hon. Dr. Bernard Nottage – DM (posthumously)
The Rt. Excellent Sir Lynden O. Pindling – NH, ON, KCMG, (posthumously)
The Most Hon. Dame Marguerite Pindling – ON, DCMG,
Sir Sidney Poitier – KBE (posthumously)
Pastor Hugh Roach – OBE (posthumously)
Dr. Robin Roberts – OBE
Mrs. Sue Roberts – MBE
Mr. Thomas A. Robinson – MBE (posthumously)
Mr. Andre Rodgers – CM (posthumously)
Dr. Nicola Virgill-Rolle
Mr. Robert Sands – DM
Rev. Dr. Charles W. Saunders – CBE(posthumously)
Dame Joan Sawyer – MB, DBE
The Rt. Hon. Dr. Gail Saunders –CB, OBE, DM (posthumously)
The Hon. George Smith – CB (posthumously)
Mr. James H. Smith, CBE
Mr. Joseph Spence (posthumously)
Mr. Cyril Stevenson (posthumously)
The Hon. Justice Mr. Joseph Strachan (Retired) – MB, CMG
The Rt. Excellent Sir Roland Symonette – NH, KT, (posthumously)
Rev. Edwin Taylor – CBE (posthumously)
The Most Hon. Sir Henry Taylor – ON, KT (posthumously)
Mr. Maxwell Taylor – MBE
Bishop Brice Thompson – CBE
The Hon. Justice Jeannie Thompson – OB
The Hon. Jeffrey Thompson – CMG (posthumously)
Mr. Michael Thompson – OM
Mrs. Pauline Davis-Thompson – CM, OBE
Archdeacon William Thompson – OBE (posthumously)
Bishop William Thompson – CMG
Mrs. Loretta Butler-Turner
The Most Hon. Sir Orville Turnquest – ON, GCMG, QC
Mrs. Shaunae Miller-Uibo -OLV
Dr. C.R. Walker (posthumously)
The Rt. Excellent Sir Cecil Wallace-Whitfield – NH, KT (posthumously)
Mr. Bert Williams – (posthumously)
Mrs. Beverley Wallace-Whitfield – MVO, Governor-General's Gold Award
Sir Franklyn R. Wilson – KCMG