"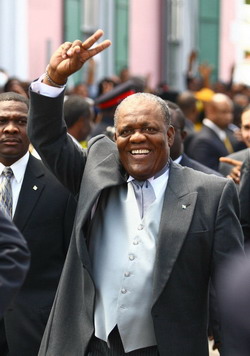 Nassau, Bahamas — We have said this before time and time again. Hubert Ingraham's Ideology is skewed, flawed, CONTAMINATED and misguided. He is  being ill-advised and to the determent of this country seeks to plunge us as a nation into the vicissitudes of poverty and hopelessness. He is the first PM who never inspire his people and never outlines a vision for this country.
Ingraham has repeatedly recorded his disdain for the Bahamian people and continues in the most unchristian manner, proceed to  kill off the livelihoods of many. Back in 1997 he dismissed thousands at BTC. In 2007 he has sent packing home thousands more at The Ministry of Tourism, The Police Force, in Education and in the public service and now we will see the same at ZNS!
And while he exercises this hate for Bahamians, he would continue to issue the largest contracts ever to be engage in the Bahamas to foreigners; The Airport Contract, BEC POWER PLANT IN WILSON CITY, The Harbour Contract, ALL OF THE Roads Contracts and now he agrees to the illegal landing of more than 5,000 Chinese while he dismisses Bahamians.
Added to this we've seen him positioned foreigners in key posts in government; THE DPP, The Director of Works and in the Department of Lands; while Bahamians are sent home.
ALL WE SAY IS THIS, BAHAMIANS LOVE PUNISHMENT AND THEY LOVE INGRAHAM!