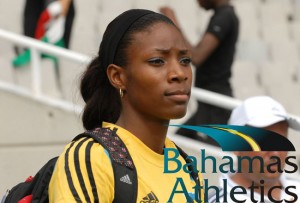 By Alpheus Finlayson /BAAA and Bahamas Athletics
SPAIN – This evening at the IAAF World Junior Track & Field Championships in Barcelona, Spain, Bahamians Anthonique Strachan, Teray Smith, and Shaunae Miller advanced to the finals in their respective events.
Strachan, who captured the gold medal in the 100m yesterday with a personal best of 11.20sec, advanced tomorrow's final of the 200m with a clocking of 23.29sec.
Teray Smith earned himself a spot in the final with a 21.06sec clocking.
Shaunae Miller, the defending 400m champion from 2010 ran 52.75sec out of lane four in the semi-final.
Rashan Brown was unable to advance to the final with her52.88sec clocking.
In the morning Carmiesha Cox ran23.94 but was unable to advance to the final out of lane four.
Devin Cartwright made it into the semi-final of the 400m hurdles to be run Friday evening at 7:35pm (1:35pm Nassau time). She ran 1:00.72
Friday's action will see the 200m and 400m finals as well as the final in the Men's High Jump with Ryan Ingraham. Ingraham has the best jump for juniors this year. He jumped 2.28m (7'6″).
This is at 6:30pm(12:30pm Nassau). Ingraham is scheduled to jump last.
Devynne Charlton is scheduled the heats of the 100m hurdles. She starts at 10:05am Barcelona time(six hours ahead of The Bahamas).
The Collie-Minns twins are scheduled to participate in the qualifying round of the Triple Jump. Latario Collie has the third best distance in the world this year for juniors at 16.64m.
The leader, a Russian has a best in the world for juniors at 16.76m and the Cuban jumper a best of 16.66m.
This competition begins at 6:05pm (12:05pm Nassau time).
The first round of the Women's and Men's 4x100m relays are scheduled for Friday evening.
The BTC Bahamas World Junior Tream is Doing Extremely Well in Barcelona.