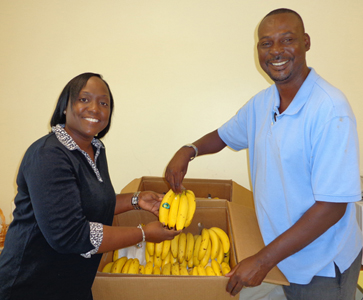 As part of its mission to provide the most vulnerable in society with greater access to higher quality healthy food items, the Bahamas Agriculture and Marine Science Institute (BAMSI) joined with the Food and Agriculture Organization (FAO) of the United Nations in celebration of World Food Day 2015: 'Social Protection and Agriculture: Breaking the Cycle of Rural Poverty' by donating some 2,500 pounds of ripe bananas to the North Andros Children's Home and every school across North Andros yesterday.
"While our purpose remains the same – to position ourselves as a front runner in the push towards national food security – this also necessitates that we play a role in widening access to high quality nutritional foods for the most vulnerable in our midst," BAMSI's Executive Director Dr. Raveenia Roberts-Hanna said.
Part of the Institute's thrust must be to find more ways to get the food that it produces into the hands of those who need it the most, she added. Viewed as a day of action against hunger, the FAO's World Food Day was begun as a way to bring attention to worldwide hunger. Agencies, communities and nations use this day to declare their commitment to eradiating hunger in their lifetime.
Schools across North Andros from Red Bays' B.A. Newton Primary School to Mastic Point Primary and Nicholl's Town Primary School, all received boxes of ripe yellow bananas. BAMSI Farm Manager Everton Parkes headed the initiative.
"These donations mark BAMSIs good will to the community. We operate out of North Andros, but most of our production is sent to Nassau so with this they get a taste of what BAMSI represents and also it's in honour of the UNs World Food Day."
According to the United Nations' website World Food Day is marked around the world by grassroots events and public awareness campaigns such as hunger walks, world food day dinners, meal packaging events and food drives.
This emphasis on feeding the hungry is critical as UN statistics show that one in nine persons around the world live with chronic hunger and that the costs of hunger and malnutrition fall heavily on the most vulnerable – women and children. Sixty per cent of the hungry in the world are women and almost five million children under the age of five die of malnutrition-related causes every year.