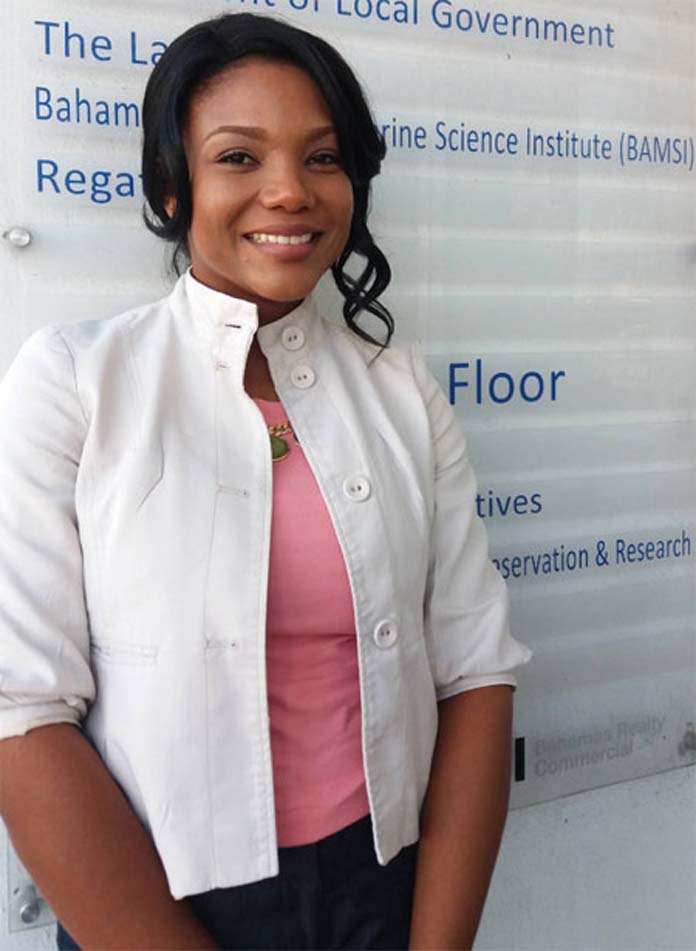 IMAGINE the plot line: new entity springs up on the economic landscape, sparks interest from a wide cross-section of society. Ripe with radical ideas, the institution advances cutting edge technology within its field, a talented and diverse workforce that pushes for industry best practices and standards, and even the unwitting political controversy – all told these elements raise its standing in the public sphere and add prestige points. As the institute progresses it takes on a following of sorts, individuals who stand on the outside, but who follow its every move – reading the stories and headlines, tracking the development and even preparing themselves to one day take advantage of the opportunity presented.
Perhaps not as scintillating as a made-for-TV movie on Lifetime, this scenario unfolded recently as daughter of the soil Ezralee Rolle joined the Bahamas Agriculture and Marine Science Institute's (BAMSI) team as a lecturer in biology and environmental sciences. What makes her employment remarkable is that she is an Androsian by birth – daughter of Bettymae and Ezra Rolle from North Mastic Point – who watched BAMSI spring forth and grow from strength to strength, and then decided that she would gain the skills necessary to position herself to one day fill a place at the Institute.
Like many young Family Islanders – including her eleven siblings – leaving Andros after graduating from high school in 2001 was the best, no, only option in Ms. Rolle's view. "You swore you'd never return to Andros, there just was nothing going on, nothing there."
Free of the restraints of secondary school, she would quickly head for the capital where she landed a job, and eventually completed a Bachelor of Science degree in Biology, Combined Science and Education from the University of the Bahamas (UB '12).
As fate would have it however, BAMSI would be the bridge that would reconnect her to the island of her birth. In 2014 the Institute was established and its launch opened a window for Ms. Rolle, a window which revealed what life could be like on Andros if she had a means to pursue her passion and a means to live her fullest life.
And so began a period of intense examination. She watched BAMSI push through growing pains that any start-up operation would experience, watched it prove its right to exist by increasing support for Bahamian farmers and building market presence for locally grown produce. She watched as BAMSI pushed for education (graduating its first class of Associate Degree holder in 2016), research and technological upgrade in an industry that was previously slow to alter course, and timid in its approach and impact on Bahamian farmers and individuals who had an interest in agriculture. She watched as BAMSI flourished, cementing its position within the economy as a powerful player and leader in the agriculture industry.
"I've been tracking BAMSI in terms of wanting to get involved in what it is that BAMSI is about, which is Bahamians finally taking the lead in agriculture. And I love the idea that the plan was executed in Andros! I like the idea that they made use of the wide open space in Andros to diversify the economy and get people off Nassau, and also get people like me to go back home, and have a job or means of providing a lifestyle for myself while being in that type of environment – that's something that I didn't have before, that wasn't an option before."
Ms. Rolle joins the BAMSI team as an integral cog in the academic wheel. As a science based institute, biology is a foundational course for both the agriculture and marine science streams. It is imperative that students are steeped in the theoretical and practical aspects of the science and have a firm grasp of its application, so lecturers who are well versed in the subject area and are able to connect the learning experience with the science of growing, harvesting and exploring the growth of food and the nation's marine life are of significant value to the Institute.
"I'm excited to be a lecturer at the institute. As a lecturer I will bring all of my experience that I've had with education and working with students not only for their personal betterment, but also the betterment of communities and, essentially, of the nation."
In Ms. Rolle, BAMSI has found an educator who has actively pursued what was important to her and used her platform as a biology teacher, in both the private and public school systems, to incorporate agriculture and a passion for growing food into the consciousness of her students.
Her portfolio includes the launch of the Bahamas Reef Environment Education Foundation (BREEF) Eco Schools Programme while at Temple Christian High School. The programme allows students to spend time outdoors and experience more of the environment. It focuses on activities that involve the beautification of the campus – looking at ways for more sustainable uses of energy, promoting recycling, and also has students working in the school's garden. "This was my attempt to get children to appreciate where food comes from, and the importance of sustainability," she noted.
Focused on the way forward, Ms. Rolle, like any good investor, is ready to take full advantage of her place at BAMSI. As someone who has her own interest in agriculture and the nature of growing food – she is looking forward to the learning aspect as well. She is currently working towards a Master of Science degree in Agriculture and Life Science from Virginia Polytechnic and State University. "This is something that I feel will be great for me in terms of how much I can learn and how much information I can gain, [having access to] people with all these diverse backgrounds in marine biology and different sciences. This is something that I can definitely feed off – helping my own personal development and aspirations. "
Looking forward to a satisfying career with BAMSI – in Andros – Ms. Rolle said she fully endorses the goals and vision of the Institute. "I personalized it to make it my own mandate to extend this vision throughout our whole country. I believe in education, I believe in the power of unifying people to a cause that makes sense. It makes sense for us to be able to feed ourselves It makes sense for us to develop products that we can easily make right here in the Bahamas as opposed to importing products from all over the world. So I endorse BAMSI and I think that in the long term it will be something that builds our nation."