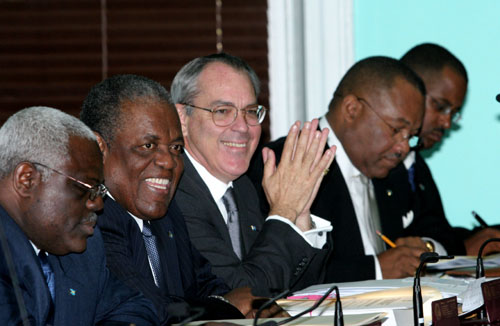 Bahamians buckling under pressure whilst some nine (9) Cabinet Ministers were off the island on Friday. Bahamians catching hell and the people who suppose to stir hope in the country cannot be found. Hubert Ingraham and Brent Symonette are both smiling in this file photo whilst thousands of Bahamians lights are being turned off by BEC, thousands more are terminiated from their jobs and cannot buy food to eat.
Bailey Town, Bimini: Businesses on Bimini are closing their doors and laying off workers on that island everyday according to a sources on that island. Reports coming to Bahamas Press confirms that Bimini Bay Resort has closed its restaurant and has placed on two day work shifts all workers at the resort. A source on the island confirmed that the resort is 'not making any money' and with the high "UNBEARABLE electrical costs" the resorts and many residents are buckling under pressures.
Bahamas Press reported that it was the Ingraham government whom decided to terminate the electricity supply of thousands of residents throughout the country  putting businesses offline, many more residents out of work and thousands of homes in darkness. "For the past 48 years since I moved to Binimi I have never ever seen it this bad on the island. In 47 of those 48 years I have lived here my home had never ever been broken into. In this year alone, my home had been broken into three (3) times already," a frighten Porgy Bay resident told Bahamas Press.
Early this morning a jewellery store's alarm went off on Bimini, the signal of another attempted robbery on the tiny island.
"My bill is more then my mortgage, and so I have no choice but to close down my business here in Bimini and layoff my all my employees," another business owner told Bahamas Press.
With raising fuel cost, high electrical cost and unbearable food prices (one of them being a 32oz Ketchup at City Meat Markets  now over $9)  Bahamians businesses and resident are finding it difficult to keep their heads above water. "Even the illegal number house on Bimini closed down on the island of Bimini. Nobody have money to buy numbers nor can the operators can afford to pay for winnings.
Bahamas Press contends that while the world economy is slowing up and falling into recession, the decisions by the Ingraham led government is quickly moving the Bahamas – due to its WICKED economic policies – into depression! SO MUCH FOR THE TRUST AGENDA!