Second man dies on Airport Road Project.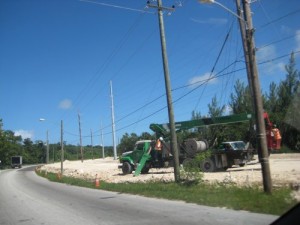 Nassau, Bahamas — A worker on the road construction out at Blake Road has been electrocuted. All attempts to revive the victim have failed.
The 48 year old Jamaican national died morning.
The incident reportedly occurred around 9:45 am on Tuesday 14th May, 2013 on the New Airport Gateway Road located, John F. Kennedy Drive and Blake Road.
Preliminary reports indicate that the driver of a Mack truck was unloading fill in the area when the incident occurred.
This is the second death at the construction cite. in a statement following the incident a press statement was issued by BEC.
The statement reads:
The Bahamas Electricity Corporation (BEC) takes the opportunity to express its condolences to the relatives and colleagues of the employee of a private company who passed away as a result of an accident on the Airport Gateway Project on Tuesday morning.
Preliminary details indicate that the accident occurred around 9:30 a.m. (May 14, 2013) when a dump truck, working on the project, came into contact with one of BEC's 11,000 volt overhead lines. As a result of the contact, it is believed, that an employee standing adjacent to the dump truck received an electrical shock and could not be revived.
As the matter is under police investigation, BEC will not release any further details with regard to this incident.
Finally, the Corporation once again reiterates its commitment to working along with all partners- private and public- to ensure the safety of workers and the general public during any project that directly or indirectly involves BEC's infrastructure.