Was Baha Mar funding the "NO" VOTE Campaign against equality for Bahamians!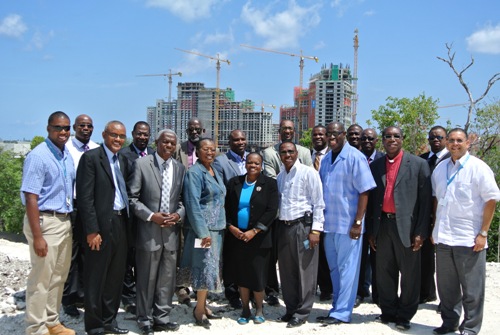 Nassau, Bahamas — Baha Mar hosted 24 members of the Bahamas Christian Council on a detailed construction site tour of the resort followed by a project briefing in the Residential Sales Preview Centre.
The delegation, headed by the president of the Bahamas Christian Council, Rev. Dr. Ranford Patterson, was comprised of religious leaders from a broad cross-section of denominations. The three hour event was chaired by Baha Mar executives Robert Sands, Senior V.P. of Administration & External Affairs and Uri Clinton, Senior V.P. & General Council.
During the event, the delegation was apprised of facts about Baha Mar including the use of Bahamian contractors and labour, the recruitment and training of Bahamians for positions at all levels of the organization as well as the marketing strategy and the projected economic impact of the resort.
"Baha Mar is deeply rooted in the Bahamas and we value the support of our local community leaders," said Sands, "It is important to maintain open lines of communication." Rev.Dr. Ranford Patterson expressed his gratitude for the first-hand information stating that it will "open the eyes of Bahamian people to what really happens at Baha Mar."