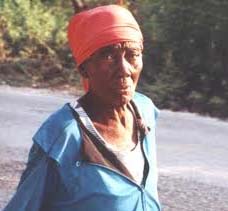 There is more breaking news happening right now.
News coming into BP confirms a report that a reporter collapsed and fell just after seeing a billboard of Hubert Ingraham. The incident occurred on nomination day. PLEAD DA BLOOD, pray for that reporter!
And just today, while on a ladder posting a photo of Hubert Ingraham in the Mount Moriah Constituency, a Tommy Turnquest campaign general fell to his death as he held the poster of Hubert Ingraham. He fell to the ground and expired. PLEAD DA BLOOD and pray for the family of that victim!
And this week another freak incident occurred around the roundabout on Cable Beach and Prospect Ridge, where two women almost lost their lives as they collided right in front of a Hubert Ingraham billboard. PLEAD DA BLOOD and pray for their recovery!

You would remember how BP confirmed the death of Papa's long term friend and spiritual confidant who did not survive the great quake in Haiti.
In that incident, 82-year-old Farkhondeh Dorsonvile perished. It was said she provided the Honorable PM with much spiritual advice during the 92, 97, and 2007 general elections.
It is said that PM was greatly distressed and overwhelmed with grief after learning of Ms Dorsonvile's passing.
Dorsonvile was the woman who gave Hubert Ingraham the famous words "IRON MEET IRON" back in 1992 as she prepared him for political battle against Pindling.

Plead DA BLOOD, don't look at them posters or billboards of PAPA!!
Meanwhile, BP is reporting a man on bail with anklet bracelet is now a suspect in police custody for the overnight murder in the Rock Crusher area of Chippingham. How did that happened? How is it the people detecting these criminals on the run from justice and out on bail didn't catch dat?
With more than 305 murderers walking up and down – and possibly on the voters registration list – and massacring Bahamians, the country is headed down to the dumps. And with more than 495 Bahamians having been slaughtered, the Bahamas is headed in the wrong direction.
Sources deep in a position to know also tell us a serial rapist is evading justice in the western Carmichael Road area.
Our intel tells us that the man on the run from police escaped from a public bathroom facility while in custody last year. We can report the man is also infected with advance stages of a serious disease. He is abducting his victims at gunpoint; MALE AND FEMALE! It's UNBELIEVABLE!!!

Bahamas Press has learnt his latest victim was raped on Monday past. We are informed the criminal rapist is somewhere in the vicinity of the Lazeratto Road area. Intel tells us his family lives in the area.
BP asks all residents in the area to be on HIGH ALERT!!!
We report YINNER DECIDE!