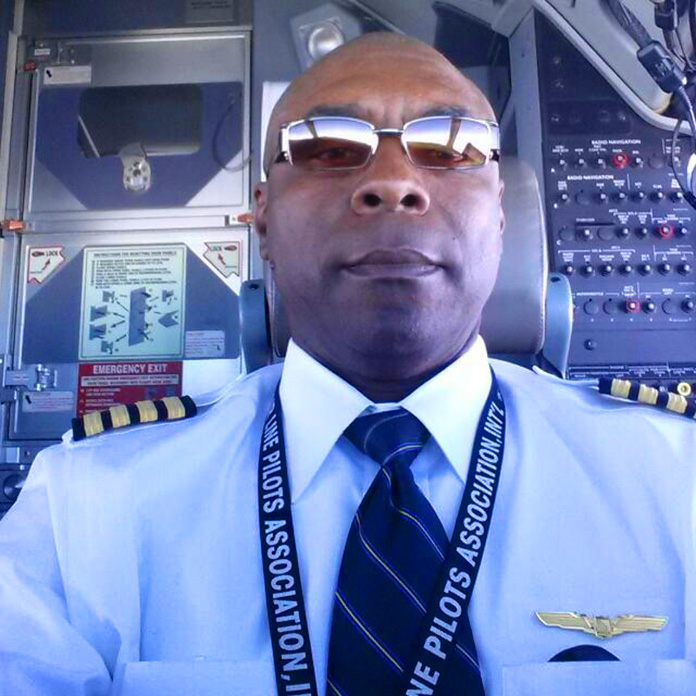 Mexico – A Bahamian veteran pilot, Willmore Stuart, employed with United Airlines, was found dead in his hotel room in Cancun, Mexico Sunday morning.
Capt. Stuart, who was once employed with Bahamasair, was set to leave Mexico with his crew on Sunday when he failed to show up for work.
BP's sources in Mexico confirmed that the crew became concerned when they didn't see him show up for the shuttle to the airport. A search of his room began and there they met him unresponsive in the bed.
Wilmore Jerome Stuart was a first class pilot who was born and bred a decent and proud product of Bailey Town, Bimini.
He made a name for himself in the airline industry and, in doing so, made all Bahamians proud of his accomplishment.
The fifty-five-year-old Biminite, who resides in Davie, Florida, back on March 24, 2015 was invited to Chicago, to the United Airlines Headquarters, for the first phase of obtaining his Captain's upgrade.
He is the son of Veronica Pritchard, also a Bimini native and a resident of Freeport, Grand Bahama.
In an interview with Simon Lewis of BIS, Stuart had this to say, "As a little boy growing up on the island of Bimini, I would look to the skies as the Chalk's plane flew over the Catholic school to land in the water, and dreamt of being able to fly airplanes someday.
"I knew then that to accomplish this dream I would have to leave the island for the United States. Times were not always good because of the financial requirement to fly airplanes. But perseverance paid off, as I was able to complete my flight training," he said.
Stuart mastered a wealth of experience in the industry, having flown for Bimini Island Air, Bahamasair, Trinity Air Bahamas, Sun Jet and currently United Airlines where he has been employed for the past 21 years.
Bahamas Press hopes the FAA will look into this latest incident and begin to examine some of the health challenges with pilots. Readers should note this was the same way former Bahamasair pilot Captain Boris Delancy died back in December 2015. Captain Delancy had served the national airline Bahamasair for over 20 years and also died of a heart condition.
We at Bahamas Press pray for the family of Captain Stuart and pray that his soul rest in peace.
We report yinner decide!