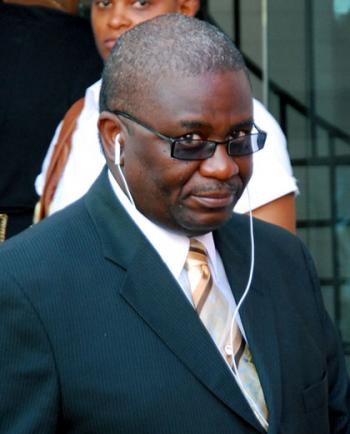 Nassau, Bahamas — Bahamas Press was livid and ballistic this week following the further delay of the BISHOP Randy Fraser debacle now played out in a Nassau courtroom.
We were so offended by the developments; it made us just short of hurling rocks, bottles, conch shells and expletives at the legal team representing the "Good Bishop" in this matter. To put it bluntly, following this week's courtroom gymnastics, we do not know who should have been standing trial; the accused, Randy Fraser, his wife or his hotshot lawyer who failed to show.
Now get this, on Thursday Fraser in testimony said that the semen found on the Church carpet, [Lawd have mussie – acts of murder!], was not thrown there after having sex with the victim, but following episodes of sex with his wife. Fraser was on the witness stand this week and explained to the nation that sometimes he gets over excited and would keep his wife inside the church to have moments of "intimate pleasure". Boy the Bishop "freaky" nah!
In his usual arrogant tone the former Child Protection Panel Officer told the court, "My office is my office. My office is also dubbed my home away from home.
"I have a wife and we would be intimate, it's my office." We thought this was the Church office to conduct church business not sex sessions.
The "Good Bishop" is such a hot potato; he concluded that he could not wait to reach home to commit his acts of benevolence on his wife. Now get this, this is the HOUSE OF GOD, the place of worship, the Temple Consecrated for the Most High, and the "GOOD BISHOP" simply decided to cut a sequel from the motion picture, 'Adam and Eve'.
Could someone please tell BP why on this blessed Sunday morning, would a Bishop decide to perform BACK SHOTS on his wife in the sanctity of the church, just yards away from the area where she performs praise and worship? 'VEL CALL DA BALICE!' THEY HAVE NO DAMN SHAME!!!

But if you think that was bad check this one out. The next day of testimony attorney for the accused failed to show up. That hotshot lawyer sends a junior lawyer to cover for him in a high profile case and guess what? She fails to appear.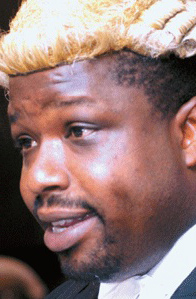 Poor Fraser already caught with his pants down and semen on the floor, he began making demands to the judge to please not to continue the case without his hired attorney Wayne Munroe present. And here's where our story gets interesting.
While Fraser was in his Egypt, wildly defending himself, his lawyer was recorded on Facebook monitoring BP and commenting on posts connected on the social network. Now what is THIS?
In a failed attempt to explain his absence to fans on Facebook, lawyer Munroe accepted praise for being one who should be clad in silk, and went on to explain why he was not in the courtroom on Friday. He noted that there were pressing office business he had to attend to and he had assigned a competent assistant to represent the "Good Bishop".
Now get this, Wayne still did not express what that business was nor did he explain what was he doing on Facebook commenting while his client was left to defend himself on a serious charge.
Some have called the move an attempt to slow the wheels of Justice to a grinding halt. Is this an OBSTRUCTION OF JUSTICE? Is this a waste of the court's time? Is this fair to the defendant? Someone must answer these questions.
Fraser is on trial for having a sexual relationship with a then 16 year-old dependent between July 2005 and February 2006.
Prosecutors in the case are presenting that the accused committed these acts on the victim several times during that period. She also alleges several sexual incidents occurred in the church and some before the divine service.
The case has been put off again until March 15th, 2011.
'DESE' ARE THE LAST DAYS, LET US PRAY!
WE NEED CHANGE!