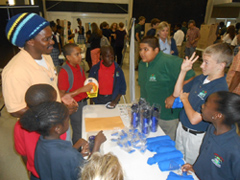 By Barefoot Marketing / Bahamas National Trust
Abaco, Bahamas – In November, Bahamas National Trust Education Officer, Scott Johnson traveled to Abaco to visit schools and community groups giving an educational presentation about fresh water in The Bahamas and how to conserve this vital resource. The BNT and Royal Bank of Canada have teamed up to create water conservation awareness in The Bahamas with the Blue Water Project.
Mr. Johnson visited both public and private schools from the North to the South and also gave a special water conservation presentation to the Rotary Club of Abaco. "The students were very receptive to the information provided about water conservation" said Johnson, "they were enthusiastic and ready to implement water-saving actions at home and at school."
At the end of the week a Water Conservation table was set up at the Science Fair hosted by Friends of the Environment at New Vision Ministries. This was a great opportunity to see how much the students who had received presentations during the week had learned. Students were asked questions about water conservation and winners received Water Conservation T-Shirts and water bottles for their participation at the fair. Over 450 people were educated on water conservation in Abaco during the week.
Schools visited on Abaco were Forest Heights Academy, St. Francis de Sales, Treasure Cay Primary, SC Bootle High School, Cooper's Town Primary, Hope Town Primary, Agape Christian School, Cherokee Primary, Crossing Rocks Primary, and JA Pinder Primary.
Launched in 2007, the RBC Blue Water Project is a 10-year global charitable commitment of $50 million to help provide access to drinkable, swimmable, fishable water, now and for future generations.