Man shortage on New Providence 'gat the gals dem' fighting up each other in da courtroom….What in da hell is dis?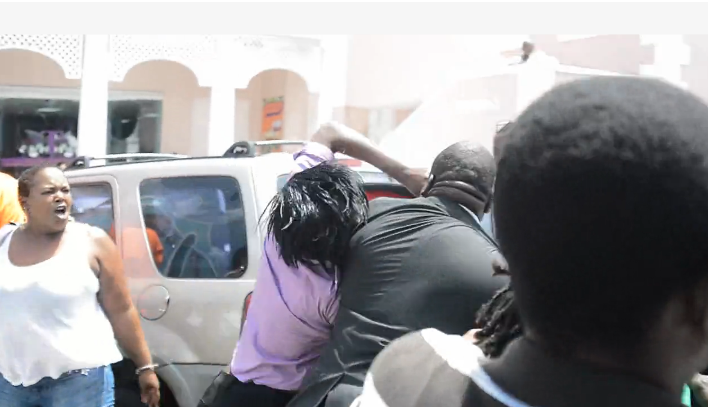 Red and Black Weave goes after Brazillian Remy in Bank Lane TODAY – WHAT IN THE HELL IS DIS?
Nassau, Bahamas — The situation of 'man shortage' in the country is getting serious, and from the looks of things almost turned deadly for two Bahamian gals who decided to turn a courtroom into a boxing ring.
Sources deep on the ground in the Bank Lane court today tell us a courtroom was rudely interupted and turned into a fighting ring where police had to be called in for two 'hard foot' 'Jungaliss-es' – with weave from from Nicoles.

The pair had to be restrained as they went at each other over a prisoner headed for jail.
Get this: according to our source, the women began fighting in the court as their 'one nutt' boyfriend was being sent to jail. The fight then continued outside Jon Isaacs' court and onto Bank Lane where live footage was captured.
Apparently, both 'Weavesters', from an over-da-hill ghetto community, had to be restrained by police who stormed the court and broke up the fight.
Meanwhile the judge could not believe how quickly one "HALF A NUTT" 'peasy head' man had set disorder to the court, even before sentence could be handed down.
Boy, I tell ya – he ain't ga see them "WEAVESTERS' for a while.
Sources tell us one of the 'jungaliss-es' is related to a former PLP politician. NO DAMN SHAME!!!
We report yinner decide! Man shortage hits the nation…