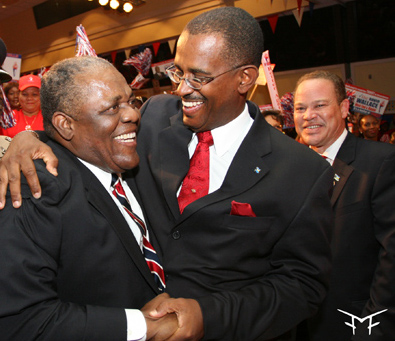 <<< An EMBRACE OF TRUSTED LEADERSHIP! The kind that would leave someone with stab wounds in the back! Prime Minister Hubert Ingraham and Minister Tommy Turnquest clinch in a friendly embrace at a 2007 party event, as minister of education Carl Bethel looks on from behind.
Nassau, Bah — Hubert Ingraham and Minister of National Security Tommy Turnquest today is in Trinidad together attending the Conference of the Americas. Now we are happy to hear the Prime Minister is there. NOT Because Obama is in town, but because Trinidad has some unsettled issues with the Bahamian people.
(1) Bahamas Press would like to know if Ingraham and his minister of national security Tommy have addressed with the Trinidadian government, the whereabouts of Andre Birbal, a former art teacher at the Eight Mile Rock High School. Birbal raped more than 20 school boys along with his pedophile friend whilst here in the Bahamas. He has since been paid a severance package by the Ministry of Education and allowed to flee the country before an investigation into his CRIMES can be completed.
Now that we know that Birbal is indeed a Trinidadian, we wonder what questions has Ingraham put to the Trinidadian government on his whereabouts? Bahamas Press has information that one of the victims of Birbal's SEXUAL SLAUGHTER is now HIV positive. Another is said to have committed suicide and a third student was flown to New Providence for psychiatric treatment. Ingraham cannot avoid speaking up for those ABUSED CHILDREN and MUST address this matter with Trinidad officials.
(2) Then there is the issue of CLICO (Bahamas). This is another hot button topic for THOUSANDS OF BAHAMIAN POLICYHOLDERS. CLICO's parent company CL Financial, is now owned by the Trinidadian government following a massive bailout of the company. Since Hubert has made his journey down to the twin island nation, we would like to know what has he done while there, to address the $75 million of the Bahamian People's Money in CLICO, that was wired to Trinidad? And if Ingraham has failed to address it, WHY!?
Elderly Bahamian mothers have lost every dime in that company's collapse here in The Bahamas. Churches have lost their entire pension savings. Young persons have been derailed from their chance to a college education, because their college funds at CLICO are NO MORE! And persons cannot buy medicine nor receive medical attention using a CLICO card, despite the fact Hubert Ingraham has asked them all to continue to pay their premiums.
We hope the INGRAHAM will address these pertinent outstanding issues between the governments of the Bahamas and Trinidad! It is incumbent upon the leader of the Bahamas to SPEAK FOR AND ON BEHALF OF HIS PEOPLE. And Whenever a leader fails in his capacity as Prime Minister to SPEAK FOR HIS PEOPLE, then we all know it is time for him and all his SCALLYWAGS TO GO!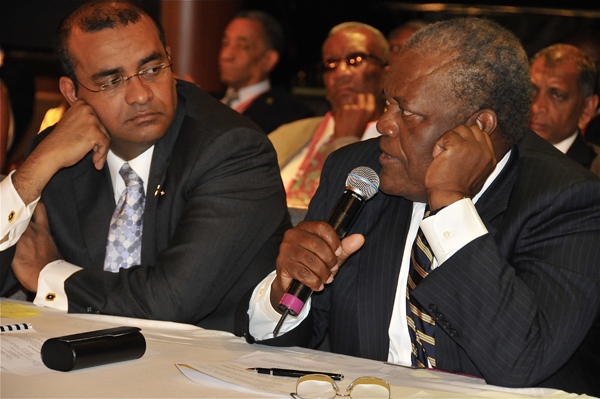 Prime Minister the Rt. Hon. Hubert Ingraham is pictured speaking as President of Guyana Bharrat Jagdeo looks on at a caucus of the Caribbean Community (Caricom), held on board the Caribbean Princess, Port of Spain, Trinidad on Friday, April 17, 2009. The caucus was held ahead of scheduled Caricom bilateral meetings with the United States and Canada. Now President Jagdeo will not rest until he gets his people's $34 million back from CLICO Bahamas. This is what you call a for his people. But CLICO Bahamas sent more than $74 million of the Bahamian people money out of the country to the parent company, but Prime Minister Ingraham cannot find the Prime Minister of Trinidad, WHY? (BIS Photo/Sharon Turner)