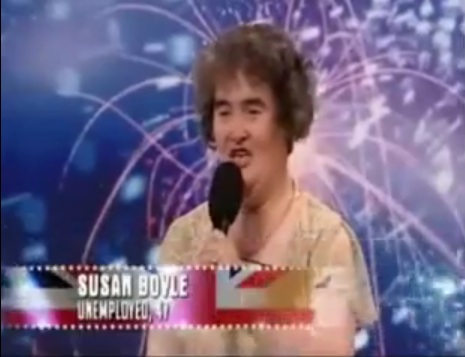 <<< SUSAN BOYLE, THE WORLD'S NEWEST STAR IS BORN!
CLICK TO WATCH HER PERFORMANCE: http://www.youtube.com/watch?v=nox2DRCAKxk
When this 47 year-old unemployed Scotswoman walked onto the TV show "Britian's Got Talent" last week Saturday, the audience laughed with cheeky grins believing that she was unable to become a star. But Susan Boyle was confident. She was unfettered, she believed in her dream and last week she became a star of HOPE AROUND THE WORLD!
We at Bahamas Press could not believe the angelic voice emanating from her lips. Her voice left the cynical audience in a state of shock. Standing to their feet with shouts of JOYS and EYES FILLED WITH TEARS! Her performance was unlike any heard since the days of Mahalia Jackson. She did as she predicted, the audience rocked! Or better yet SHE HAS ROCKED THE WORLD.
Susan walked onto that stage as an unemployed lady from Scotland, and  in an instant after her performance, she left as a star! Susan you have lifted our SPIRIT WITH YOUR WONDERFULLY INSPIRING SONG. For us to believe in ourselves, to believe in the hope of tomorrow. AND MOST OF ALL TO DREAM! A BIG THANK YOU FROM BAHAMAS PRESS!
The Scottish newspaper the Daily Record has unearthed a recording from 1999 of Ms. Boyle singing the Ella Fitzgerald classic "Cry Me a River."