U.S. Ambassador to The Bahamas, Nicole A. Avant Announces the Conclusion of Her Tenure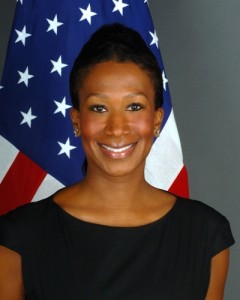 Nassau, Bahamas — On October 27, 2011, Her Excellency Nicole A. Avant announced her upcoming departure from The Bahamas, which will end her tenure as the thirteenth United States Ambassador to The Commonwealth of The Bahamas. Ambassador Avant will depart The Bahamas by the end of the year to return to private life and devote more time to her family.
On October 22, 2009 Ambassador Avant presented her credentials to Governor General His Excellency Arthur D. Hanna. Over the last two years, Ambassador Avant has worked closely with the Government of The Commonwealth of The Bahamas to further strengthen bilateral relations and advance five initiatives; Education, alternative energy, economic and small business development, women's empowerment, and raising awareness about the challenges facing people with disabilities.
Ambassador Avant described her tenure in The Bahamas as a rewarding experience. "For the last two years I have had the privilege of representing my country and President Barack Obama as the Ambassador of the United States of America to The Bahamas. It has truly been an honor to serve in this beautiful country and advance our mutually beneficial partnership, which is based on a shared commitment to regional security, democratic ideals, economic and social progress, energy security and stewardship of the environment.
I am tremendously proud of what the U.S. Mission has accomplished during my tenure, particularly in assisting local communities on New Providence, Grand Bahama and in the Family Islands. Throughout my travels I have had the opportunity to meet so many Bahamians who are making a difference in society at all levels. I applaud you for your leadership and your investment in the future of The Bahamas. You are true Ambassadors.
On behalf of my husband Ted Sarandos and our children Sarah and Tony, I wish to convey my sincere gratitude to the Governor General, Prime Minister, Deputy Prime Minister, the government and the people of The Commonwealth of The Bahamas for your warmth, hospitality and friendship over the last two years. We will always have a great affection for The Bahamas and will consider it our second home."
Editor's NOTE: Ambassador please send us those two BLACKHAWK Helicopters to help combat CRIME in the Bahamas! And from all of our team here at Bahamas Press we extend the Blessings of the Lord upon you and your family. My his peace be upon you until we meet again. We therefore share this song by the John Rutter.