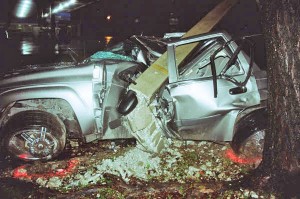 Marsh Harbour, Abaco — Another male is dead on the streets of the Bahamas following an accident in the northern part of the country, which has claimed the life of a promising young Abaconian.
Bahamas Press is confirming the victim in the late night car crash in Abaco to be that of 37-year-old, Omar Penn.
Penn was the sole passenger in a Nissan pickup truck around 11PM last night, when he slammed into a tree while he drove on the S. C Bootle Highway.
Skid marks proved Penn had lost control of his vehicle before the mishap occurred. He died instantly.
On that same highway back in 2009, four men lost their lives instantly in a head on collision. Readers would remember in that accident a grey Volkswagen Jetta collided with a white Plymouth Acclaim back in September of that year. The Jetta was being driven by Police Constable Valentino Burrows, of Coopers Town. The Plymouth was driven by Ricardo Reckley. Passengers  Romeo McIntosh and Tony Curry also perished in that incident.
Drivers on the streets of the nation are being asked to drive with care and attention at all times. Reduce speed so as to avoid a fatality. DRIVE TO ARRIVE ALIVE!
May Penn rest in peace.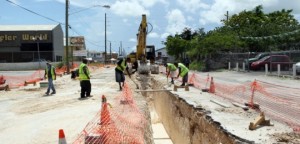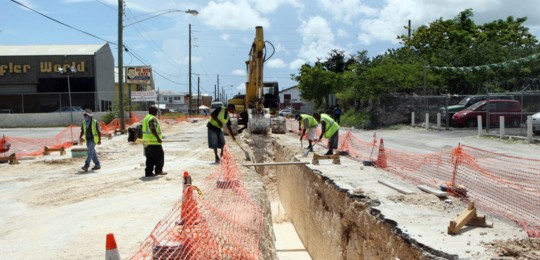 Meanwhile, on New Providence another major artery was closed this morning and detour signs posted. Residents in western Cable Beach area are now experiencing what residents in the South, Central, East and North have been plaguing with for over a year now, roadworks!
Some Jackass in the west decided to close-off the roads leading into the heart of Cable Beach. The matter is fast becoming stressful and dangerous to motorists, who cannot drive almost anywhere on the island. What kind a country is this?
Every where ya turn the roads are closed and detour signs are being posted. Cars are lined for miles along all along Prospect Ridge. SMMMMMMTTTTTT!
Why cannot these adjustment be done one corridor at a time? Every resident should refuse to work, until Macket Street, Blue Hill Roads North and South, East Street, Soldier Road, The East West Highway, Robinson Road, All across the Grove and Prince Charles are paved and opened!
We ga start calling the FNM 'Da Detour Government'! Meanwhile, has learnt some $60 million from the public treasury has been paid to Bahamas Hot Mix for the multiple roadworks. Hot Mix is a company connected to the DEPUTY  Prime Minister, Brent Symonette.