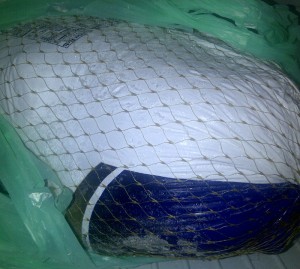 NASSAU, BAHAMAS — Bahamas Press is already in the kitchen and if yinner know anything about COOKING for Christmas – the food has to begin long before the GREAT MEAL on Christmas Day.
BP's senior chef is already in the room preparing for four great grand dinners in four locations here in the country.
The first day of feasting begins this Sunday and will run on with much socializing into the New Year. And so today the turkey for event #1 coming out of the freezer and is getting defrosted.
Tonight into the AM it will be soaked in a tub of salt and spices.
By Saturday morning it will be seasoned with rich spices and by Sunday morning after a night of taking that seasoning – ready for the oven for the Sunday event.
Now we are going to have a SPECIAL TREAT for all BP readers at 12:01 AM ON Christmas Morning.
Readers should know you ga need something heavy to shake off that pile a food.
Bahamas Press on Christmas MORNING has a Special Gift to unwrap at the National Insurance Board. We are going to ask one question – "HOW SAFE WAS THE 1.63 BILLION Dollars we left in Algernon Cargill's CARE?"

If yinner thought the bonuses were serious wait until you read the rest of the story! At 12:01AM Christmas Morning BP ga have plenty to say about NIB!!!! MERRY CHRISTMAS!
WE REPORT YINNER DECIDE!