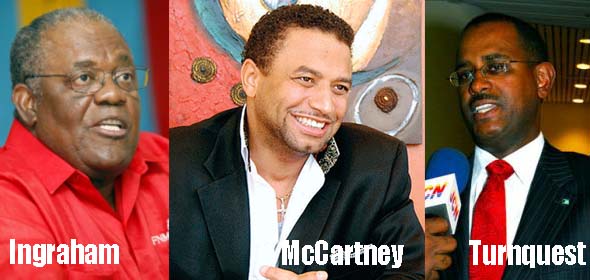 Nassau, Bahamas — Hubert Ingraham's editorial Punch column "The Scribe" hinted to us early in the week how PAPA was headed to Bamboo Town to meet with constituents. Sadly so while Ingraham and his men went in sackclothes and ashes, to tell the residents of that community they apologize for what transpired in the House, no member of Bamboo Town constituency showed up. What happened last night, however, was a gathering of FNMs from around New Providence.
Branville has all of his Bamboo Town generals in lock. With him there exist more than 75% of the former council; so why did the FNM go to Bamboo Town?
Sources deep in the FNM tell us, "Branville's single decision to vote "NO" to the sale of BTC resonated with the majority of Bahamians. Fact is, we have lost our brightest bulb and how we go forward without a Branville in the constituency spells trouble for us."
Last night's gathering produced supporters from everywhere else but Bamboo Town. There were residents from as far west as Mt Moriah. Far East as St. Anne's and even the bad candidate, Duane Sands, showed up with a hand full of his few Lizzy supporters. The question is; where were the residents of Bamboo Town who Papa went to see and apologize to?
One former FNM resident in the area said, "From the way things look, ain't any use they come in these parts. Bamboo Town GONE with Bran, South Beach gone to Hamilton, Pinewood Gone to the PLP, and all I see is GOLD in Golden Gates. There will be a clean sweep and vote of no confidence against the FNM Government in these parts and it ain't long nah!"
Polls taken by the FNM reveal devastating results for the FNM in all of the South, Southeast and Southwest constituencies. The result forced Kennedy MP to flee to the North, South Beach Neymour to head into Exuma and Woody is sweating like wet butter in Pinewood.
Before the BTC vote Branville attempted to hold a town meeting on the sale of BTC and the FNM Goons Squad showed up and disrupted the voice of the people! Typical FNMS!
Branville shocks an entire FNM Party and has Papa wearing sackcloth. PAPA RUNNING SCARED, THE FNM GONE RED! BRANVILLE GONE AND IS FREE LIKE SIR CECIL.