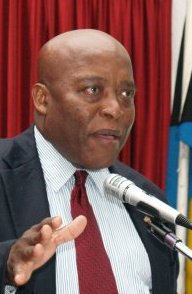 Oswald Brown Writes

By OSWALD T. BROWN

FREEPORT, Grand Bahama — It is not surprising that Hubert "THE DICTATOR" Ingraham finds himself knee deep in a cesspool of embarrassment as a result of the last-minute cancellation of a meeting to officially handover the Bahamas Telecommunications Corporation (BTC) to its new owner, Cable & Wireless. That the event had to be called off is yet another example of incompetence of the two individuals who are in charge of the management of The Bahamas' economy.
As the Minister of Finance, Prime Minister Ingraham reportedly delegated responsibility for the sale of BTC to his political protégé Zhivargo Laing, in his capacity as Minister of State for Finance; nonetheless, it was incumbent on the Prime Minister to ensure that his junior minister covered all the necessary areas to ensure that no snags developed to prevent the giveaway of the government-owned corporation to Cable & Wireless.
Apparently, Laing proved to be not up to the task and he let his boss down big time. That's the only conclusion to be drawn from the "surprise" revelations that resulted in the government on Monday having to cancel the meeting to officially hand over BTC to Cable & Wireless.
The press had been notified in an e-mail from Bahamas Information Services (BIS), the government's news agency, that a press conference would be held at 11 a.m. on Monday, and some members of the press were already at the press conference site when they received word that the event had been called off. BIS had informed media houses of the cancellation in another e-mail, reportedly one hour after the event was to be held, which suggests that BIS was unaware that it was to be cancelled.
Yet, on The Sawyer Report, an interview show hosted by Jerome Sawyer on ZNS-TV, Laing either attempted to mislead the public or he was not telling the truth when he indicated that he was unaware that the handover was supposed to take place earlier.
Bahamas Press (BP), the online news service that has been closely following developments in this matter, on Tuesday was blunter in its assessment of Laing's remarks on The Sawyer Report. Noting that April 4 was the day that Prime Minister Ingraham told Parliament the official handover would take place, BP said it was "shocked when 'Lying' Laing told the media he didn't know why those who sent the notice (BIS) to members of the press did so and that they must have known why they did."
Be that as it may, this is a huge embarrassment to Ingraham and Laing and indeed the entire FNM government. Moreover, if what BP reported is correct, the embarrassment is about to become catastrophic, considering the potential scenario that could unfold as Cable & Wireless deals with the business fiasco it is faced with in its efforts to straighten out the mess created by Ingraham and Laing.
According to BP, conditions for the sale of BTC to Cable & Wireless have not been approved by the Grand Bahama Port Authority (GBPA), which is paid "over one million in taxes" annually by BTC for its business operations in Freeport and "based on clauses in the Hawksbill Creek Agreement such a sale would need the blessing of the Port."
If all this is true, it's incredible that Laing was not aware of this aspect of the sale being approved. As the Member of Parliament for the Marco City constituency of Grand Bahama, there's no possible way, unless he is even more incompetent than some people say he is, that Laing should not have been aware of this fact.
BP also claimed that not only does the GBPA want the taxes due to it on the sale of BTC, but it also wants "a 1.5 per cent ownership in the new BTC Company."
I placed a call to GBPA President Ian Rolle this morning to find out whether all this is true. His secretary said he was not in and my call had not been returned up to the time I decided to write this. But one thing I'm pretty sure of is that BTC is a company that operates in the Freeport area and as such it is required to pay a licence fee to the GBPA. What many Bahamians fail to realize is that under the provisions of the Hawksbill Creek Agreement, the GBPA is essentially a "government within a government."
Under the Hawksbill Creek Agreement, signed in August of 1955, Freeport's founder Wallace Groves was granted 50 acres of "crown land" at one pound an acre (the equivalent of $2.80 cents at the time) and was given sweeping powers to develop the land he had purchased. The name Freeport is symbolic of the fact that one of the provisions of the Hawksbill Creek Agreement is that all imported goods for the development of the area would come in duty free (bonded), a law which still exists today. At one time Freeport even had its own police force. In subsequent years, this responsibility and the responsibility for law and order (police), Customs and Immigration were turned over to the elected government of The Bahamas. But for the most part, Freeport is still "governed" by the GPBA.
And it is this fact that makes the dilemma currently facing Ingraham and Laing all the more intriguing. Because of his dictatorial style of leadership, Ingraham now finds himself in a position that could result in him having to "eat crow," so to speak. For the past two years, he has been embroiled in a public row with Sir Jack Hayward, one of the principal owners of the GBPA, as a result of his refusal in December of 2009 to renew the work permit of Hannes Babak, chairman of the GBPA.
Babak had been hand-picked by Sir Jack and Lady Henrietta St. George, widow of the late Edward St. George, the other co-owner of the GBPA, to extricate Freeport from the pit of economic despair and there were strong indications that he had Freeport headed in the right direction.
With important economic ties in Europe, Babak made frequent trips abroad to encourage investors to come to Grand Bahama and there reportedly were a number of promising projects lined up when Ingraham arbitrarily decided not to renew his work permit. What was so unbelievable about his decision was that he made it without consulting with the then Minister of Immigration Branville McCartney and made the announcement, even before Babak had been informed, at a press conference at Nassau International Airport en route to a United Nations Conference on Climate Change in Denmark.
If he now finds himself having to "beg" Sir Jack to help him reach a reasonable agreement with the GBPA to complete the sale of BTC to Cable & Wireless, it would certainly be poetic justice. My understanding is that Babak was in town this past weekend; therefore, I would suggest that Ingraham also find out if he still is in Freeport and also seek his assistance in helping him out of the mess he has created. I strongly suspect that the GBPA is still desirous of having Babak back as chairman, so maybe he would accede to Ingraham's request in return for his work permit. He is known to be a good negotiator.