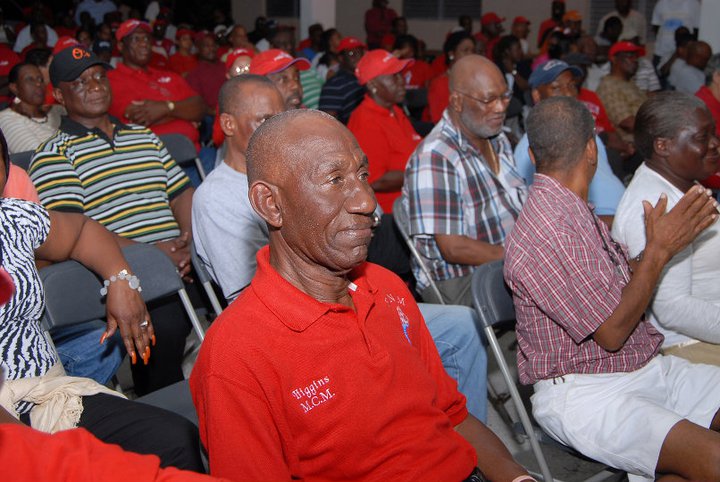 Nassau, Bahamas — Police had to cool passions as tempers flared in Bamboo Town last evening forcing the Prime Minister to stop taking questions and leave the area quickly.
According to a Free National Movement supporter, "The meeting went well until a man got up. As he stood, those attending the meeting disrespected him as they attempted to remove him away from the microphone in the audience where the prime minister took questions. 
Another man then stood. The second man proceeded to ask the PM questions and then the PM said he wasn't taking any more questions. It was then when tempers flared out_of_control and things got out of hand."
Bahamas Press learnt Prime Minister Hubert Ingraham then quickly left the compound without incident as things got heated. However, its was shortly thereafter when things turned for the worse.
Giving a second account of the events in Bamboo Town last night a source said, "Celi Moss posed questions and so did a camera man. Then the meeting was shut down.
"Apparently as I was speaking to Mr. Moss in person, I saw the chairs being thrown and a crowd gathered.
"The officer on duty, Corp. Stanley Sands, my personal friend, went and broke up the fray and escorted the cameraman to safety. Why can't we be people at a meeting? It's expected! Grow the hell up!"
The incident is not the first to occur in Bamboo Town. Shortly after tabling of the BTC deal to Cable and Wireless, MP for the area, Branville McCartney, attempted to hold a Town Meeting with his constituents hoping to gain their views on the proposed sale. Members of the FNM Goons Squad, however, heckled the meeting; forcing that event to also close.
"As the Prime Minister exited, some unruly group, believe to be a small group of former FNMs, begin wildly throwing chairs into the crowd, and that is when everything got far out_of_control," another eyewitnesses said.
All the media were present at the Bamboo Town event last night and we at BP will wait and see if members of the WUTLESS MEDIA report the same.